Do you know what WinSpeeder is?
WinSpeeder is a potentially unwanted application classified as an adware program. Adware programs are pieces of software that display commercial content. It is an alternative for users who do not want to pay for a program – in exchange for a freeware application they need to endure constant commercial advertisements. Most of the time such applications are harmless, but when it comes to WinSpeeder, you should seriously think whether it is a good decision to keep the program on your PC. We strongly advise you to remove WinSpeeder right now.
The reason why WinSpeeder cannot be trusted is because this adware application comes from a big family of unwanted programs. It is practically identical to LuckyCoupon, SaveNShop, SaveON, and many other applications. All the adware programs from this family are based on JustPlugIt engine. What is more, most of them have official websites, but they are highly dysfunctional. For example, the only thing you can find out on winspeeder.info is that WinSpeeder is an application that can speed up your browser by monitoring your activity and disabling unnecessary programs. However, the website offers no direct download link whatsoever.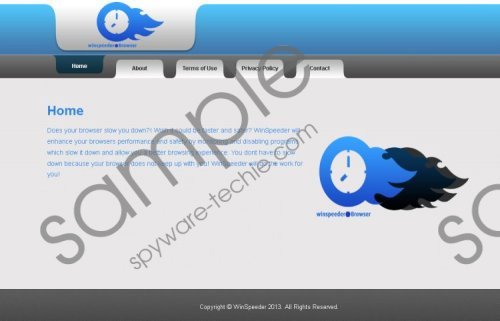 WinSpeeder screenshot
Scroll down for full removal instructions
As a result, it is obvious that the main method of WinSpeeder's distribution is bundled downloads. Just like other applications from the same family, this program often spreads via the InstallRext, Vittalia and Amonetize installers. Most of the time, users do not even realize that they have initiated a freeware download because they were searching for entirely different things. Our research lab team says that third-party installers often hide behind fake download buttons on third-party file sharing and torrent websites. Users might think that they download a particular media file, while in fact they click on a third-party download button, and after a few seconds WinSpeeder enters their computers.
Technically, WinSpeeder is supposed to be compatible with Google Chrome, Mozilla Firefox, and Internet Explorer web browsers. However, we have noticed previously that the newest Google Chrome versions often block these types of adware applications. Nevertheless, even if there is no extension added on your browser, the main WinSpeeder files are still present on your computer, and you need to take care of this issue. Do not forget that this adware application can collect data on your web browsing habits, and later on this information will be used to generate customized pop-up ads.
To avoid annoying commercial ads and other potential security issues, you have to remove WinSpeeder right now. Terminate the application via Control Panel, and then make sure that the extensions disappeared from the system as well. Finally run a full PC scan with SpyHunter free scanner to make sure that you do not have more unwanted applications on board.
How to remove WinSpeeder
Windows 8
Drag the mouse cursor to the bottom right of your screen.
When the Charm bar appears click Settings and go to Control panel.
Open Uninstall a program and remove WinSpeeder.
Windows Vista & Windows 7
Open the Start menu and go to Control panel.
Select Uninstall a program and remove WinSpeeder.
Windows XP
Click the Start button and navigate to Control panel.
Select Add or remove programs and uninstall WinSpeeder.
Remove WinSpeeder from browser
Google Chrome
Press Alt+F and select Tools.
Open Extensions and remove WinSpeeder.
Mozilla Firefox
Press Alt+T and click Add-ons.
Disable and remove WinSpeeder from Extensions.
Restart browser.
In non-techie terms:
WinSpeeder is an adware application that will spam you with annoying pop-ups. It will NOT improve your browser performance, so there is no need to keep this program on your PC. Remove WinSpeeder and get yourself a reliable antispyware tool that will protect your PC against similar intruders.