Do you know what Winsnare Pup is?
Winsnare Pup is a potentially unwanted and harmful program that is associated with a browser hijacker family. While the program itself is not a browser hijacker, this association and other potentially undesirable behavior traits should be enough to convince users that they must remove Winsnare Pup right now. If you do not know what other programs might be hiding on your computer together with this unwanted application, perhaps you should run a full system scan with a legitimate antispyware application. Then you would ensure that your computer gets protected against other potential threats.
There are a lot of legitimate programs out there that sometimes get copied by malware developers. Winsnare Pup is also based on a legitimate program that is often used to transfer all sorts of information remotely. When a shady program functions as a copy of a legitimate tool, it is sometimes harder to determine whether it is dangerous or not. For example, if you had the intention to use the Snare application, you might find Winsnare Pup rather useful. This PUP is an actual copy of the Snare software, and if you are not too adept at telling legitimate programs apart from the fakes, you might end up using the PUP without any second thought.
But what would happen if you used Winsnare Pup? Well, this program mainly collects information on your web browsing habits. Considering the fact the application is associated with browser hijackers, this type of behavior is not surprising at all. The program will be able to log all sorts of data, including the time you spend online or on certain websites. Here you might say that the program collects this data without your permission, but browser hijackers and other associated applications usually get user's permission indirectly.
How does that happen? This happens when you install the browser hijacker that brings Winsnare Pup along. Since this program is associated with the ELEX browser hijacker family, it is very likely that this program entered your computer in a software package. We mean the freeware application bundles that can be downloaded from file-sharing websites. You know these freeware apps that you can download from random third-party sources? They are usually distributed via third-party installers, and those installers can easily bundle several other programs together. Let us say you wanted some file converter and you did not check all the steps in the installation wizard. As a result, Funnypage123.com, Luckypage123.com, Myhomepage123.com, and a number of other potentially unwanted programs enter your computer "technically" with your permission.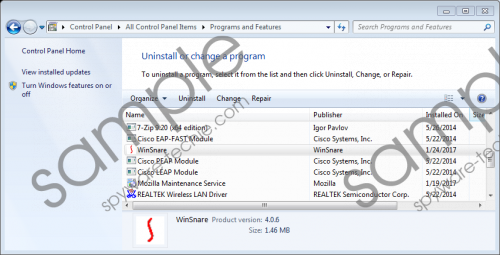 Winsnare Pup screenshot
Scroll down for full removal instructions
Since the application collects information on your web browsing habits, it is very likely that this data could be used for online marketing campaigns. After all, browser hijackers require such information to generate custom commercial content. So it is very likely that Winsnare Pup just helps the browser hijacker it is associated with. For the most part, this kind of behavior will be more annoying than dangerous, but one must not forget that browser hijackers and potentially unwanted programs can be exploited by cyber criminals, too.
In such a case, Winsnare Pup might as well be used as a tool for malware distribution. Coupled with a browser hijacker, it could cause severe damage to your system if it manages to expose you to harmful content. This is the main thing you should be wary of. And it is also the reason you have to remove Winsnare Pup immediately.
It is possible to uninstall the application via Control Panel, so it should not be hard to get rid of the PUP. However, let us not forget there is also a browser hijacker on your computer, and probably a few other undesirable applications on-board.
To find out just how many unwanted programs you have, scan your PC with the SpyHunter free scanner. Most of the freeware apps can be removed manually, but if you find it too bothersome, you can always delete the automatically with the security tool of your choice.
In case something goes wrong or you have more questions about computer security, you can always leave us a comment below. Our team will be ready to assist you. Do not ignore annoying apps like Winsnare Pup just because they do not look dangerous. Undesirable programs should not be tolerated.
How to Delete Winsnare Pup
Windows 10 & Windows 8.1
Press Win+R and type Control Panel into the open box.
Click OK and go to Uninstall a program.
Highlight the application and click Uninstall.
Windows Vista & Windows 7
Open the Start menu and go to Control Panel.
Open Uninstall a program and remove the program.
Windows XP
Click the Start menu button and open Control panel.
Select Add or remove programs and uninstall the app.
In non-techie terms:
Winsnare Pup is a potentially unwanted application that probably arrived at your computer with other undesirable programs. You should employ a powerful antispyware scanner to see just how many unwanted apps you have on your PC. Needless to say, you need to remove Winsnare Pup right away to avoid further complications. Do everything you can to protect your computer from malicious exploitation.