Do you know what WinOff is?
WinOff is an adware application that targets Italian-speaking computer users. Judging from its homepage at winoff.net, the application does not differ much from other adware programs we have encountered before. WinOff tries to make you think that it can help you save money when you shop online, but in reality it is only there to generate profit for its developers. Luckily, you can remove WinOff via Control Panel, but that might not be enough to ensure your system is safe and secure. For that, you may need to scan your PC with a licensed antispyware application.
As mentioned above, WinOff has an official homepage, but it is hard to understand the point of having this page because it is not possible to download WinOff directly. The homepage does not have any direct download link. It only presents the basic program's features and urges users to start using the application in order to enhance their online shopping experience. It would seem that you can start using WinOff once you subscribe to the service via the official website, but there are definitely more sides to this story. If the only method of distribution were the subscription, users would not be complaining about this application.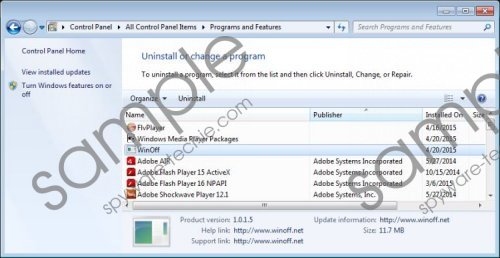 WinOff screenshot
Scroll down for full removal instructions
Thus, it is clear that WinOff can also enter your computer through other means of distribution, namely, software bundling. Adware programs far more often get distributed in groups. Our research shows that WinOff may arrive at your computer bundled with UltraZip, Search.golliver.com, and other potential system security threats. Golliver is a browser hijacker, so if WinOff arrives with this infection, you will also experience browser setting modifications. If that happens, you certainly need to invest in a computer security tool because removing a browser hijacker on your own and restoring your system settings manually might be too much of a task for you.
As far as the WinOff application itself is concerned, the program naturally displays coupons and shopping offers. It is an adware application, after all. Also, it collects information on your web browsing history through tracking cookies. This way WinOff knows what kind of content should be embedded in its ads to increase the possibility of your clicking them. Unfortunately, WinOff does not check whether the ad content is reliable or not, so if you click an ad that redirects you to an unfamiliar website, you are completely on your own then.
Avoid such situations by removing WinOff from your system today. After manual removal, you should seriously consider investing in an antispyware application because that is the most efficient method to ensure your computer's security.
How to Remove WinOff
Windows 8 & Windows 8.1
Move the mouse cursor to the bottom right of your screen.
When the Charm bar appears, click Settings and go to Control Panel.
Open Uninstall a program and remove WinOff.
Windows Vista & Windows 7
Click the Start menu button and open Control Panel.
Select Uninstall a program and remove WinOff.
Windows XP
Open the Start menu and click Control Panel.
Go to Add or remove programs and uninstall WinOff.
In non-techie terms:
WinOff will spam you with annoying commercial advertisements that will slow down your web browser. You should remove WinOff immediately because adware applications are often exploited by malevolent third parties for malware distribution. If you have any further questions on adware removal or computer security in general, do not hesitate to leave us a comment.