Do you know what Winn Extension is?
Winn Extension is an adware application that works on the Chrome browser. It is not a malicious computer infection, but it can be annoying and intrusive. What's more, it is possible for this plug-in to enter your computer unexpectedly, when you do not intend to have it at all. Thus, computer security experts recommend removing Winn Extension because there is no need to trust an application that entered your system behind your back. While you are at it, you should also look for other unwanted programs that could have barged into your system while you were not looking.
One of the reasons it is hard to classify this extension as a computer infection is the fact it is available on the Chrome Web Store. You can add it to your browser yourself; if you feel you need the functions offered by the application. Nevertheless, we obviously deal with instances where users did not want to have this program, and it still entered their computers. Our research lab team has an answer for that, too. They say that in such a case, Winn Extension probably spreads through pop-ups, browser redirections, and commercial ads. So you encounter the methods of freeware distribution probably without even realizing it.
If you see a lot of pop-ups when you browse the web, there is a good chance that you have a few more unwanted applications on-board. Also, they might be responsible for adding Winn Extension to your browser, and it would also mean that your system has been compromised before this extension entered your PC. To avoid such things, you should think twice before you open a website full of annoying pop-ups or commercial ads. Also, refrain from downloading programs from unfamiliar websites. Official homepages should be your first pick when you need a new application.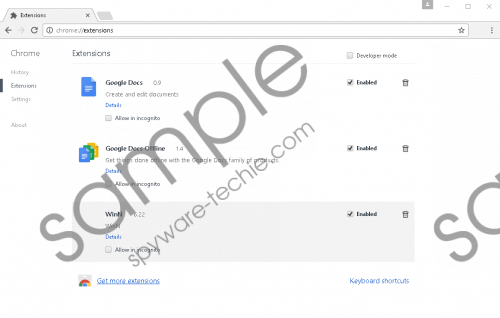 Winn Extension screenshot
Scroll down for full removal instructions
Now, if we were to trust whatever Winn Extension tells us, it would seem that the application is there it turn your browser into your personal TV set. It should provide you with access to your favorite Sports programs, TV channels, and so on. However, the functionality of this application is highly questionable, and it also exhibits particular behavioral patterns one would not want to find in a reliable application. For instance, it is very clingy when it tries to push you into installing it.
If you happen to enter its official homepage, which is located at secretabs.website, you will be greeted by a pop-up that will urge you to install the extension. If you decide that you do not want this extension, then the adware will switch your browser into a full-screen mode, potentially giving you a scare. Although it is easy to exit the full-screen mode by pressing the F11 key, some users might feel inclined to add Winn Extension to their browsers to avoid similar occurrences in the future.
What's more, once the extension is added to your browser, it is going to collect data on your web browsing habits. Since the application functions as adware, it will see to it to deliver commercial advertisements that will be customized according to your web browsing habits. Of course, you should not click anything delivered by an adware application because such content is not safe. We are not trying to say that Winn Extension wants to infect you with malware. Far from it. The application simply does what it is programmed to in order to generate financial profit.
It is the third parties that make Winn Extension unreliable. Since the application can embed almost any content in its ads, even cyber criminals could make use of it for content promotion. If that happens, you would be in great trouble, as it would be really easy to get infected with malware or get your sensitive information stolen.
Therefore, you have to take this risk into consideration and remove Winn Extension once and for all. It is not complicated to terminate the extension. You simply need to delete it from the browser's extension menu. However, if you think there might be more unfamiliar programs on-board, you should seriously consider scanning your PC with the SpyHunter free scanner. After all, system security should be one of your biggest concerns.
How to Remove Winn Extension
Open the Chrome browser.
Press Alt+F and click More tools.
Select Extensions and open the menu.
Delete WinN from the list.
Restart the browser.
In non-techie terms:
Winn Extension may look like a useful application or you simply would ignore it because it seems trivial. But you should now allow this extension to remain on your system just because it does not look dangerous. Unwanted program is an unwanted program, and it would be better to remove Winn Extension right now. You should also consider the fact there might be more unwanted applications on-board, so please scan your system with a security program to terminate them all.