Do you know what Winfix 10 is?
It was found that Winfix 10 is a fake system optimizer that has the ability to paralyze your Windows operating system. We have tested this annoying program in our internal lab and have found that it can disable the Task Manager and lock your screen using a bogus notification, popularly known as the BSOD (blue screen of death). This is initiated to convince you that you need to install a tool that could disable or remove hardware causing this. We can guarantee that the BSOD is initiated by Winfix 10 itself, which means that this is the program you need to delete from your operating system. Do you know how to remove Winfix 10 from your PC? Continue reading, and you will learn everything you need to know about this fake registry cleaner.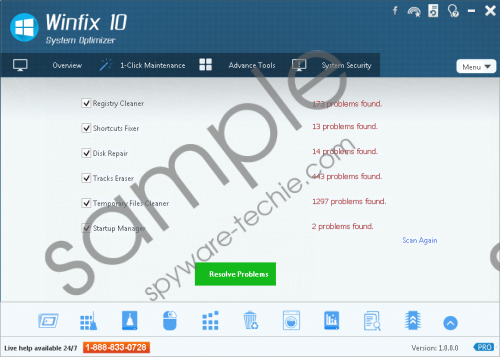 Winfix 10 screenshot
Scroll down for full removal instructions
If you trust the information provided at winfix10.net, you might think that Winfix 10 can be trusted. Developerts LLC (the developer) has made an effort to make this website look profession and reliable, which is why so many computer users install Winfix 10 themselves. Of course, it is more likely that you will have to remove this malicious program after executing an unreliable software bundle. For example, Amonetize could bundle Winfix 10 with adware, potentially unwanted programs, and possibly more dangerous threats. Even though we do not recommend installing this unreliable registry cleaner at all, you certainly should not install it via third-party installers, because you might end up having to delete even more security threats from your operating system. On top of that, the removal of Winfix 10 is complicated enough.
An extract from the fictitious Winfix 10 BSOD
If problems continue, disable or remove any newly installed hardware. Disable BIOS memory options such as caching or shadowing. If you need to use Safe Mode to remove or disable components, restart your computer, press F8 to select Advanced Startup Options, and then select Safe Mode.
The files that control Winfix 10 are signed by Fidelis IT Solutions Private Limited, and they are usually found in the SenseIUpdater folder under %AppData%. If you have not been locked out of your own operating system, the first thing you need to do is remove Winfix 10 files. Simultaneously tap Win+E to launch the Windows Explorer, type %appdata% into the bar at the top, and remove all files within the SenseIUpdater folder. If your screen was locked already, you will have to do the same after restarting your PC in Safe Mode. This might seem scary if you are inexperienced, but our removal instructions below will certainly help you. Note that after you delete Winfix 10, it is a MUST to install authentic malware detection and removal software. If you have any questions regarding the removal of Winfix 10, please post them in the comment section below.
Removal step 1: Remove malicious files
Remove from Windows 8 and Windows 8.1
Access the Metro UI and click the Power Options button.
Simultaneously press the Shift key and click Restart to access the Troubleshoot menu.
Move to Advanced options and select Startup Settings.
Click the Restart button and select F4 (Safe Mode).
Tap Win+E (Windows Explorer) and enter %appdata%\SenseIUpdater into the bar at the top.
Delete the files within this folder.
Remove from Windows Vista and Windows 7
Restart the PC and wait for BIOS to load.
Immediately start tapping F8 to launch the Advanced Boot Options menu.
Select Safe Mode using arrow keys and tap Enter.
Open the Windows Explorer (tap Win+E) and enter %appdata%\SenseIUpdater.
Delete the malicious files in the folder.
Remove from Windows XP
Restart your PC and wait for the moment BIOS screen loads.
Start tapping F8 to access the Windows Advanced Options Menu.
Select Safe Mode and tap Enter.
Click Yes on the Windows is running in safe mode warning to confirm access to safe mode.
Simultaneously tap keys Win+E to open Windows Explorer.
Type %appdata%\SenseIUpdater into the bar at the top and delete all files in this folder.
Removal step 2: Delete Winfix 10/Winfix 10 Pro
Delete from Windows 8/Windows 8.1
Simultaneously tap Win+R to launch RUN.
Enter Control Panel and click OK.
Move to Programs and click Uninstall a program.
Right-click the program you wish to remove.
Click Uninstall.
Delete from Windows Vista/Windows 7
Navigate to the left of the Taskbar and click the Windows logo.
Select Control Panel and move to Uninstall a program.
Identify the program you wish to remove, right-click it, and select Uninstall.
Delete from Windows XP
Navigate to the left of the Taskbar and click the Start button.
Open the Control Panel menu and double-click Add or Remove Programs.
Move to Change or Remove Programs and Remove Winfix 10.
Step 3: Malware removal
Restart your operating system in Normal Mode.
Launch a browser and go to http://www.spyware-techie.com/spyhunter .
Download and install an automated malware removal tool.
In non-techie terms:
Winfix 10 is an unreliable program that you need to delete from your operating system as soon as possible. The instructions above might seem intimidating at first, but we are sure that you will handle them if you take the process one step at a time. If you cannot seem to remove Winfix 10 from your PC, make sure you rely on automated malware removal software. The worst thing you could do is ignore the presence of Winfix 10 and the associated infections, because they could seriously jeopardize your virtual security.