Do you know what Windows Security Renewal is?
There is one single thing you should know about Windows Security Renewal – it is a dangerous Windows infection, which you should remove from your computer without waiting any longer. The newest clone of Windows Home Patron is extremely dangerous and could easily trick you into trusting the bogus cyber criminals' scam, if you do not study rogue antispyware's interface and research its true origin. The cunning program derives from Rogue.VirusDoctor family, and criminals, who work behind this faction, have implemented tens, if not hundreds, of malicious applications to gather illicit profits. And if you do not delete Windows Security Renewal, schemers could use this to make even more money from you.
Even though the rogue is not a legitimate program, you should not take it for granted, and beware of the tricks it could perform to make you doubt its legitimacy. Without a doubt, this cyber criminals' invention has been designed very carefully, and right after its invasion you could be paralyzed to control your system the way you want or even remove Windows Security Renewal. This is because the rogue will ensure that your Internet connection is blocked, access to Registry Editor and Task Manager is removed, and control to run executables is disabled. You might come across various other Windows dysfunctions, and if you want to remove them as soon as possible, we suggest using an activation code, which is meant to trick virus' distributors that you have purchased their bogus product's full version.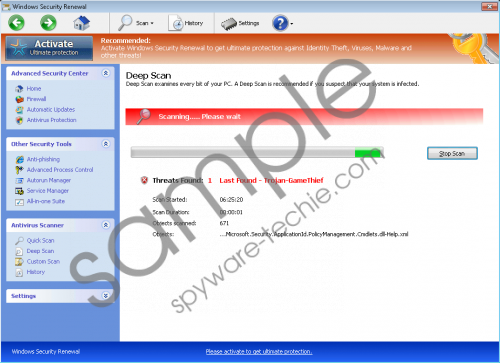 Windows Security Renewal screenshot
Scroll down for full removal instructions
Activation code: 0W000-000B0-00T00-E0020
Since the licensed rogue's version is incapable of malware detection and removal, the activation code will prove you that all appeared symptoms and declared malware never even existed in your system! And together with the removed malfunctions, all irritating Task Bar notifications will be gone too. See a few of them below.
Error
Potential malware detected.
It is recommended to activate protection and perform a thorough system scan to remove the malware.

Warning! Spambot detected!
Attention! A spambot is sending viruses from your e-mail has been detected on your PC.
Yes, protect my PC and remove spambot now (Recommended)

Recommended:
Please click "Remove all" button to erase all infected files and protect your PC
In non-techie terms:
All bogus notifications, scanner reports and paralyzing dysfunctions are supposed to create an illusion that your system is under an attack of highly dangerous, malignant applications, and you need to delete them with a pricy and worthless full version tool. Without a doubt, this is just a way for cyber schemers to get to your money, and you should delete Windows Security Renewal right away, to regain control over your operating system. It is essential to protect your personal data from any other incoming malware, which is why you should install legitimate security software, which could not only remove the virus, but could also support your privacy with full-time protection.
Aliases:WindowsSecurityRenewal.