Do you know what Windows 8 Security System is?
Lately, cyber criminals have been peaceful concerning rogue antivirus programs; however, Windows 8 Security System has changed everything, because this new fraudulent application is ready to rip Windows users off. The application typically infects computer through corrupt websites that are compromised by the creators of Windows 8 Security System. The infection's name, the interface and the way it operates do not reveal its original intention or the ultimate goal which is to extract money from users that are unaware of rogue applications and the danger of trusting them. It is important not to fall into criminal's trap and remove Windows 8 Security System immediately. If you keep on reading, you will learn how and why you should delete this sly infection.
The rogue antivirus program wants you to believe that it is very helpful and vital for your computer's security. To show you how good it is, it supposedly scans the computer and presents surprisingly dangerous infections. For example, it can display such viruses' names as Backdoor.Win32.Rbot, Trojan.Spy.Ursnif, Trojan.MSIL.Agent and many other which should not be a reason to active the program, because the system does even not contain these parasites.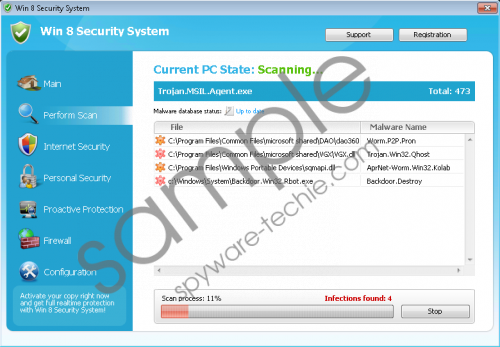 Windows 8 Security System screenshot
Scroll down for full removal instructions
Reject the idea that you can trust this tool can do anything good for your computer, and ignore alert messages claiming that the computer is infected:
Threat detected!
Security Alert! Your computer was found to be infected with privacy-threatening software. Private data may get stolen and system damage may be severe.
Recover your PC from the infection right now, perform a security scan.

Attention: DANGER!
ALERT! System scan for spyware, adware, trojans and viruses is complete. Win 8 Security System detected [xx] critical system objects. These security breaches may be exploited and lead to the following:
Your system becomes a target for span and bulky, intruding ads
Browser crashes frequently and web access speed decreases
Your personalfiles, photos, documents and passwords get stolen
Your computer is used for criminal activity behind your back
Bank details and credit cart information gets disclosed
Click REGISTER to register your copy of Win 8 Security System and perform threat removal on your system. The list of infections and vulnerabilities detected will become available after registration.
As the second alert implies, the application is produced not by professional developers, but by careless schemers who do not pay attention to errors in their alerts. Luckily, it is possible to remove Windows 8 Security System with a professional spyware removal tool, which you should install if you want to get rid of such symptoms as the lack of responsiveness of some programs, no access to the Internet, sluggish performance, etc. You can fix the system if you register the infection by using one of the following keys and a random email address: Y86REW-8F42D6E3-FD18 or 8F42D6E3-FD18. Now you should open your browser and download a reliable spyware removal tool which will remove the infection.
In non-techie terms:
You should remove Windows 8 Security System, because this application is a scam. It presents misleading information to deceive you about your computer system's condition and push you into buying its non-functional full version.
Aliases: Windows8SecuritySystem.