Do you know what WinClock is?
Our research team identifies WinClock as a potentially unwanted program. Although this application is not incredibly malicious, it can introduce you to suspicious and unpredictable advertisements, which is why it has been brought to our attention. Although it is entirely up to you whether or not to delete WinClock from your operating system, we advise that you make the decision after analyzing this program. This report answers all questions regarding this potentially unwanted program, but, if anything remains unclear, use the comment box below to start a discussion. Feel free to ask questions about the removal of undesirable software, the protection of your operating system, or other issues.
Howard Software Limited is the developer of WinClock, and it uses winclock.net to promote its product. Here, you are introduced to two different versions of this potentially unwanted program. The first version is free, but it is supported via online advertising, which means that, if you install this version, you will see online advertisements. The second version of WinClock supposedly is ad-free, but it will cost you 5.99 USD. Needless to say, most users choose the free version. After all, WinClock only offers a desktop clock and different skins for it, which is why no one wants to invest in this program. Obviously, this has nothing to do with the removal of this PUP. Computer users choose to delete this program because they are not happy with the ads that it injects. Unfortunately, Howard Software Limited has not provided any information disclosing the parties responsible for advertising, which is why the ads shown to you are considered to be unreliable. This is why we believe it is important to consider the removal of WinClock.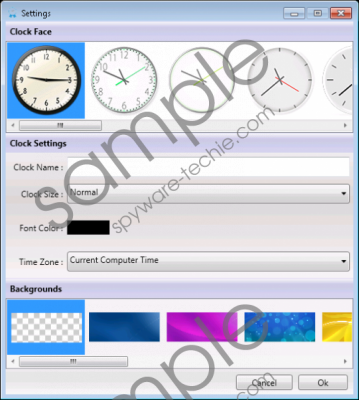 WinClock screenshot
Scroll down for full removal instructions
Many computer users install WinClock using third-party installers. Our research team does not advise trusting unfamiliar installers because they usually introduce other suspicious programs. Although WinClock is not a threat, it could come bundled with extremely malicious programs. Of course, if these programs have entered your operating system, you must remove them as soon as possible. The guide shown below will help you delete WinClock, but we suggest using an authentic malware remover (e.g., SpyHunter) to find and eliminate other threats. Even if these threats do not exist, an authentic security tool will protect your operating system from other unreliable and malicious programs in the future.
N.B. If you do not know if malware has corrupted your PC, you can install a malware scanner to examine your operating system. Make sure you install a legitimate and reliable scanner.
Delete WinClock from Windows
Delete from Windows 10
Tap Win+R to launch RUN and enter Control Panel.
Move to Uninstall a program.
Right-click the program you have decided to remove and click Uninstall.
Delete from Windows 8.1 and Windows 8
Click the Search icon on the Charm Bar (Metro UI).
Type Uninstall a program and launch this utility.
Right-click the unwanted program you wish to remove and select Uninstall.
Delete from Windows 7 and Windows Vista
Open the Start menu (tap the Windows icon on the Taskbar).
Select Control Panel and move to Uninstall a program.
Right-click the program you wish to remove and choose Uninstall.
Delete from Windows XP
Click Start on the Taskbar and open Control Panel.
Click Add or Remove Programs and find WinClock.
Select the undesirable application and click the Remove button.
In non-techie terms:
WinClock is a potentially unwanted program that might inject ads into the sites that you visit. Although this is not done without the permission of computer users, our research team warns that the ads shown could be unreliable. If you do not want to take any risks, remove WinClock from your operating system using the guide below or an automated malware remover. We suggest using the latter option if you need to delete other infections and want to keep your operating system protected in the future.