Do you know what Win Tuneup Pro is?
The free version of Win Tuneup Pro is quite annoying since, with it, you can fix just 15 of its detected errors; afterward, the application regularly launches itself automatically so it could encourage the user to buy the full version. One of the reasons why we advise against purchasing the paid version is because the tool is not worth the asked price even with the 50 percent discount. Also, the threat was classified as a potentially unwanted program (PUP). Apparently, the software might be distributed through bundled installers and work in an undesirable manner. There are even more reasons that make us doubt the advertised benefits of this application, but we will talk about them later in the article. Before continuing with our report, we should mention that if you decide to delete the PUP from the system, there is a removal guide at the end of the text to assist you in this task.
Win Tuneup Pro can be downloaded from its homepage called wintuneuppro.com, but without knowing the application, it would be difficult to visit it accidentally. Thus, it is quite possible that to make the PUP more popular and spread it more widely, its creators could be distributing it through bundled software installers as well. In such case, users could get the tool while installing another program without realizing it. Setup files bundled with this unreliable tool might be spread on questionable file-sharing web pages. If this is how you received the PUP, we would advise you to check the computer just to make sure you did not install more suspicious software. Naturally, to avoid threats alike in the future, it would be advisable to keep away from shady file-sharing sites and do more research about applications you want to install, e.g. you should check the publisher's reliability, read some reviews, and so on.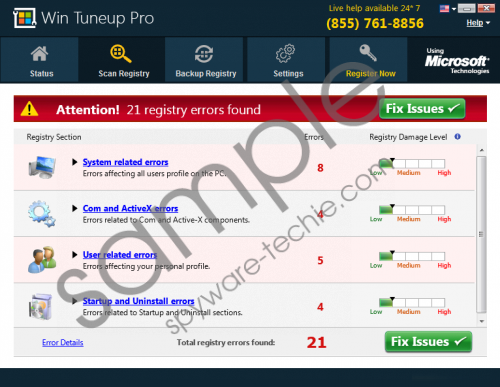 Win Tuneup Pro screenshot
Scroll down for full removal instructions
As soon as Win Tuneup Pro is installed, it should create a folder with a random CLSID type title in the %PROGRAMFILES(x86)% or %PROGRAMFILES% directory. Additionally, the application may create three tasks called Win Tuneup Pro, Win Tuneup Pro_DEFAULT, and Win Tuneup Pro_UPDATES. These tasks might allow the PUP to launch itself without your knowledge, automatically download updates, or show pop-ups with offers to purchase the full version. Since the tool auto-starts with the operating system, it can act like this on a daily basis. Normally, the software should not be able to update itself without your permission, but as our researchers noticed it could freely connect to the Internet as long as there is access to it. Lastly, the threat could create its icons on the Desktop or Taskbar, although they do not seem necessary when the application launches itself automatically.
During the scans, the program is supposed to find various errors, e.g. system related, user related, startup and uninstall, or Com and ActiveX errors. However, our specialists noticed that during the scan the application finds only Registry paths with missing data. Therefore, it is possible the tool can only detect leftovers of other software that was already uninstalled. If this is all the PUP can do we do not believe the tool will be able to help you prevent system crashes, improve its response, or get an instant performance boost as it is promised in the program's description. Since we do not see any benefits from using the free version of Win Tuneup Pro, we certainly do not recommend buying the paid one.
If you do not want to see any irritating pop-ups or keep such a suspicious tool on the system, you should not hesitate to get rid of it. The PUP has a working uninstall file, but according to our specialists, when you try to uninstall it through the Control Panel it shows a pop-up urging to upgrade Win Tuneup Pro, and it is hard to close it. For that reason, it would be less complicated to eliminate the application by erasing its created data manually. The whole process is shown in the removal guide placed a little below this text. Users who find this task a bit too difficult could use reputable antimalware software instead, perhaps it is the perfect time to clean and strengthen the system so it would be less vulnerable to future threats.
Erase Win Tuneup Pro
Access the File Explorer (Windows Key+E).
Copy and paste %PROGRAMFILES(x86)% and %PROGRAMFILES% into the Explorer separately and tap Enter.
Find CLSID type folders with random titles (e.g. ccd2dd67-2393-5632-0f47-332d02f558c9).
Select the PUP's folder and press Shift+Delete.
Copy and paste %WINDIR%\Tasks and %WINDIR%\System32\Tasks into the Explorer and press Enter.
Locate the following tasks and erase them: Win Tuneup Pro, Win Tuneup Pro_DEFAULT, Win Tuneup Pro_UPDATES.
Exit the Explorer.
Delete icons belonging to the program.
Empty the Recycle Bin.
In non-techie terms:
Win Tuneup Pro is a questionable PC optimizer that is also classified as a potentially unwanted program. The application can launch itself and connect to the Internet without your permission, although the most irritating part is reoccurring suggestions to purchase the paid version of it. Given the doubtful benefits of the free version, we doubt the upgraded tool could do any better if it only detects empty Registry keys. After all, such data should not cause any system crashes or slower its performance. Thus, we advise you not to waste any time with this questionable tool and eliminate it at once. This you can do either manually with the help of the removal guide placed above or automatically with legitimate antimalware software.