Do you know what Win Tune Pro is?
Despite having a convincing marketing campaign, Win Tune Pro is still a potentially unwanted program that you ought to remove. Our researchers have classified it as such because of its gimmicky functions and its use of scare tactics that involve showing fake error messages. Those false messages tell you to dial a tech support phone number that is probably paid. So it is reasonable to think that this program's only purpose is to make money for its owners. Furthermore, this program is also paid, and we think that buying it is a waste of money. Our researchers have tested this program, and now we are going to reveal what this it is hiding.
Our researchers have found that this app is similar to programs such as SpeedingUpMyPC, DrSpeedyPC, PC Cleaner, PC Speedup Pro, and so on. In general, their developers claim that their software is the next best thing since sliced bread and can make your computer work like clockwork. The same can be said about Win Tune Pro's developers as well. This program comes packed with various functions, but are even useful? Well, yes and no, but there are not worth the $69.99 price tag. Testing has shown that its registry cleaner detects empty keys and provides information about its findings, unlike most PC optimizers that perform fake scans. However, that is the only useful function not already present in Windows. In addition to the Registry Cleaner, Win Tune Pro has features, such as Disk Defragment, Memory Optimizer (most likely does not work,) Startup Optimizer, Disc Cleaner, USB Immunizer, and other functions that are not all that useful or already present in the OS by default. We want to stress that apart from the Disk Defragment function, none of these tools will improve your computer's performance. So its wide range of tools looks like steal only if you are not familiar with the details.
However, our primary concern is that some versions of Win Tune Pro have been configured to show a fake error message that states that Internet Explorer is at risk, and other browsers may be infected as well. First of all, a browser is never infected, a computer is. A browser is only affected by an infection. Secondly, the tech support number that it promotes is 1-800-303-8110. You should know that this number is also used by http://virus-protect.net, http://pc-support24x7.com, http://virus-protect.net, and may be some other tech support websites. This commercial support is probably paid so in addition to having to pay $69.99 for the program you are expected to pay for tech support separately. Thus, this application is untrustworthy, but where does this shady app come from? Well, let us find out.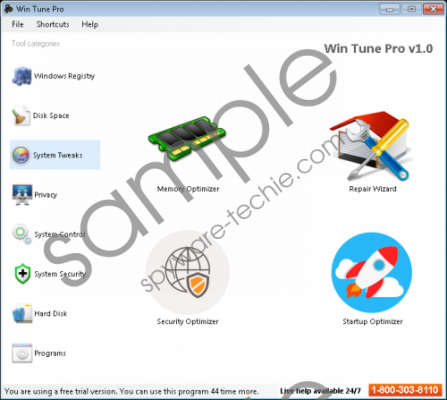 Win Tune Pro screenshot
Scroll down for full removal instructions
Research has revealed Win Tune Pro comes from a web monetization company called MIITS LLC which is based in the USA. Its website is called Miitsllc.com, and it explicitly states that it specializes in online adverting. You might be wondering why an advertising company has produced a PC Optimization tool. Well, we think that it has something to do with promoting the tech support service and generating additional revenue from selling this application.
This company has set up two promotional and distribution websites at Wintunepro.com and Accenthelp.net. These websites are identical but are hosted on different servers. The reason for having there two websites is unknown. Nevertheless, these two programs are doing rather poorly at the moment judging by the visitor count witch is low. Our researchers say that it might come bundled in the future. This program's low popularity might be the result of a lack of promotional campaign which might start soon as well, so be on the lookout and remember that Win Tune Pro is an undesirable piece of software.
Therefore, we recommend that you remove this program using our instructions because in addition to uninstalling it from Control Panel you will also have to delete its junk files is two folders. In closing, we hope that this description has proved to you that Win Tune Pro is unreliable because it promotes a tech support service using deceitful tactics.
How to uninstall this application
Windows 10/8.1/8
Right-click on the Start menu/Start screen.
Select Programs and Features.
Locate the program and right-click on it.
Click the Uninstall button.
Windows 7/Vista
Click the Start menu button.
Open Control Panel and click Uninstall a program.
Locate the PUP and right-click on it.
Click Uninstall.
Windows XP
Open the Start menu and click Control Panel.
Open Add or Remove Programs.
Locate application, highlight it and click the Remove button.
Delete the junk files
Press Windows+E keys.
In the resultingExplorer window's address bar, enter the following directories.

%LOCALAPPDATA%
%UserProfile%\Local Settings\Application Data

Locate and delete the folder called WINTUNEPRO.
Done.
In non-techie terms:
Win Tune Pro is a potentially unwanted program that is supposed to be a PC optimization tool, but it does little to optimize it, and our researchers have found that most of its functions are already built in Windows, so this program is not worth purchasing. Furthermore, it is set to display a fake error message claiming that your computer's security is at risk and recommending that you call paid tech support. This program is nothing more than a money-making tool, so remove it whenever you are ready.