Do you know what Win Speedup 2018 is?
Win Speedup 2018 is a potentially unwanted program that might be distributed in a software package, along with a number of other relatively useless applications. We are not saying that this program is dangerous or anything, but when it comes to new software, you always have to ask yourself one thing: Do I want it? So did you want to have Win Speedup 2018? Did you install it consciously? If the answer is no, then you clearly should remove this application from your computer. Even if it is not a malicious security threat, there is no need to keep an unwanted application.
Here you might wonder, who an unwanted program can enter your computer if you do not remember installing it willingly. What's more, if the program is unwanted and it is running on your PC somehow, doesn't it mean that the program is a malicious threat? That is, of course, the most common trail of thought, but it is not always the right one. There are many programs out there that could be installed on your computer accidentally, and those programs are far from being malicious infections. What's more, users tend to install unwanted apps themselves without even realizing it.
So how does something like Win Speedup 2018 manage to enter target systems? Let us leave the official homepage behind for a while, and let us focus on the other method of distribution. The truth is that the most common way for a potentially unwanted program, adware application or a browser hijacker to reach you is through bundled downloads. Bundled downloads refer to software packages that can be downloaded from file-sharing websites. Users seldom realize that they download more than one application when they find some freeware app on a third-party source and set it up.
However, when you launch a third-party installer, you should check whether it does not bring more programs along. For that, you need to read all the steps in the installation wizard carefully. Normally, there is a step where you can choose to avoid adding new apps to your system. Unfortunately, most of the users go through these installation steps blindly, without even bothering to read what they say. As a result, Win Speedup 2018 and other similar applications easily settle on various systems. At the same time, it would not be hard to avoid such apps if only users were a little bit more careful.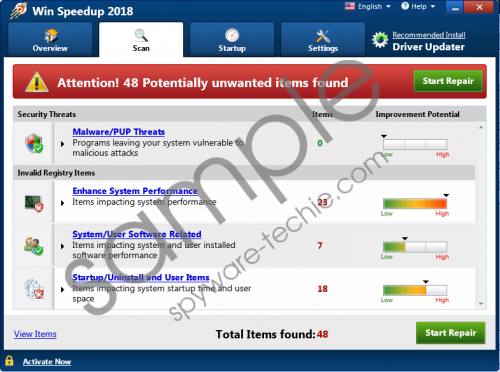 Win Speedup 2018 screenshot
Scroll down for full removal instructions
So what kind of program is Win Speedup 2018? This potentially unwanted application is a system optimization tool. If your computer has been acting up lately, it might need some cleanup. It is very often that random files pile up and slow down computer systems. For example, if you often install and uninstall programs, there could be a lot of random files left in the Windows Registry. Also, there could be a lot of temporary files that might slow down your overall system's performance. Win Speedup 2018 comes forth to help you delete such unnecessary files, at the same time improving your PC's performance.
However, please note that Win Speedup 2018 does not do anything for free. The program will run a full system scan to let you know whether you have those unnecessary files on-board. According to our tests, this application does not display fake results, so the information presented will be reliable. Nevertheless, to make use of the program's services, you will have to purchase the full version of the application. And this is where you face the main question: Do you want to keep on using the program that you did not intend to have? Or do you want to get rid of it?
If you find that you do not want to pay for the service you did not ask for, you can remove Win Speedup 2018 from your computer immediately. It is very easy to get rid of this application because you can uninstall it via Control Panel.
You should also check whether there are more unfamiliar applications installed because one software package could bring several additional programs. To be absolutely sure that your system is clean, you can always scan it with the SpyHunter free scanner.
How to Delete Win Speedup 2018
Windows 10 & Windows 8.1
Press Win+R and type Control Panel. Click OK.
Open Uninstall a program and remove the application.
Windows Vista & Windows 7
Go to the Start menu and select Control Panel.
Click Uninstall a program and remove the unwanted application.
Windows XP
Open Start menu and navigate to Control Panel.
Double-click Add or remove programs and remove the app.
In non-techie terms:
Win Speedup 2018 is not a malicious infection, so there is no need to panic. This program must have been installed on your PC accidentally, and you can get rid of it without any difficulty (if you want to). In fact, there could be more undesirable applications installed on your PC, some of which could be actually dangerous. Thus, when you remove Win Speedup 2018, do not forget to check your system with a licensed antispyware tool of your choice.