Do you know what Win Heal 2016 is?
Win Heal 2016 is a scanner that promises to find system errors, delete junk files, fix the system registry, and, boost the speed of the computer significantly. As it looks like a trustworthy PC scanner, many people do not think that there is something wrong to keep it installed and, as a consequence, they do not hurry to remove Win Heal 2016 from their computers. We do not blame those users because this piece of software really does not differ much from other reputable PC cleaners/optimizers the way it looks. Unfortunately, research has shown that the appearance of Win Heal 2016 is very misleading because this application cannot be fully trusted even though it does not look like a bad tool. After thorough research, our team of specialists has even decided to put this program into the category of potentially unwanted programs. PUPs are not very dangerous, but they might perform activities fully reliable programs should not do. Therefore, security experts suggest getting rid of this program and then installing a similar but more reliable application for cleaning the computer. Read this article carefully if you need more reasons to erase Win Heal 2016.
If you launch Win Heal 2016, it will scan your system and then will tell you after some time that "several security threats and stability issues are placing your PC at risk." You will see the same message if you scan a new computer as well, which suggests that its scan results cannot be trusted fully. In addition, it does not allow users to check what errors/threats it has found on the computer, so specialists believe that it might be true that it shows scan results with a doubtful validity. Of course, it is not the only reason specialists have decided to put Win Heal 2016 into the category of potentially unwanted programs. It has also been found that Win Heal 2016 only promotes the telephone number 1-866-207-6564 instead of fixing PC problems itself. If you dial this number, you will be told that serious problems have been detected. As the service is oriented at less experienced users, you might also be offered to purchase some kind of program that should fix problems or a paid service. We do not recommend purchasing the promoted software/service and, in general, dialing the provided number.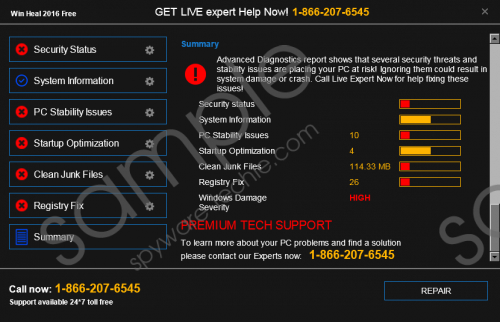 Win Heal 2016 screenshot
Scroll down for full removal instructions
Specialists cannot say that Win Heal 2016 is a good program also because it cannot be closed. If you click X, it will disappear from your Desktop but will continue performing activities behind your back. Reputable programs always allow users to close them easily, so Win Heal 2016 is definitely not one of them, and it would be best to remove it from the system as soon as possible.
You can find the installer of Win Heal 2016 on some kind of untrustworthy third-party website; however, in most cases, this potentially unwanted program is spread in bundles. Yes, we could not find its official website, so we believe that it does not even have it. Potentially unwanted programs are not the only ones that are spread in software bundles. It has been found that adware, browser hijackers, and other similar infections might travel in software bundles too and sneak onto computers rather secretly. Therefore, the installation of a trustworthy antimalware tool is a must. You should also stay away from questionable websites and programs in the future as well.
You could remove Win Heal 2016 from your computer through Control Panel; however, one unimportant file .log will still be left in C:\ProgramData\WinHeal, which means that you will have to remove it yourself. If you feel that you will not be able to remove this application fully manually, we suggest going for the automatic Win Heal 2016 removal. Acquire a trustworthy scanner before the deletion of this program because it seems that the one installed on your computer does not work properly if it has allowed Win Heal 2016 to enter your computer.
Delete Win Heal 2016
Windows XP
Click the Start button.
Select Control Panel.
Click Add or Remove Programs.
Select the program.
Click Remove.
Windows 7/Vista
Open the Start menu.
Open Control Panel.
Click Uninstall a program.
Right-click on Win Heal 2016.
Uninstall it.
Windows 8/8.1/10
Tap Win+X and then open Control Panel.
Click Uninstall a program.
Select the application you wish to remove.
Click Uninstall.
Delete leftovers
Open the Windows Explorer.
Go to C:\ProgramData\WinHeal.
Remove the .log file you find there.
In non-techie terms:
If Win Heal 2016 has found a way to enter your system, there is a possibility that other untrustworthy programs are hiding on your computer as well. Of course, you do not know about their presence. We cannot say that it is easy to detect those untrustworthy programs, so we suggest scanning the system with a diagnostic scanner. Feel free to download such software from our website.