Do you know what Win 7 Protection 2014 is?
Win 7 Protection 2014 is a fake security program which is spread over the Internet in order to obtain your money by deception. Once installed, Win 7 Protection 2014 starts its fake scanner that immediately displays some scan results. According to the system scan, your computer contains multiple threats. Some pop-up warnings are also displayed to convince you that you should activate the program. Moreover, the program disables executable files, i.e. various programs, including Internet browsers and security programs, so that you cannot find out why Win 7 Protection 2014 is now present on your computer. It is crucial to remove Win 7 Protection 2014 from the computer because the program does not protect you against malware and spyware.
Win 7 Protection 2014 is not the only name of the program. The program changes its name depending on the operating system; as a result, you may encounter XP Protection 2014, Vista Protection 2014, and Win 8 Protection 2014. There are many other malicious programs that work in the same way, and some of them are Win 7 Internet Security 2012, Win 7 Internet Security 2010, and Win 7 AntiSpyware 2010.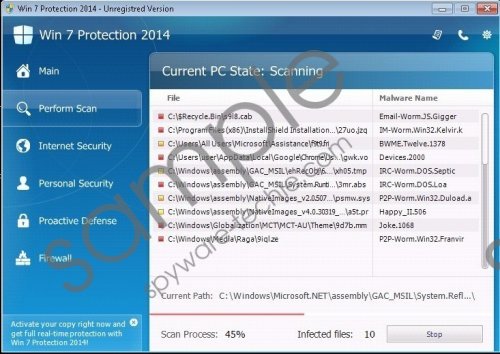 Win 7 Protection 2014 screenshot
Scroll down for full removal instructions
Win 7 Protection 2014 can enter your computer in several ways. It can be installed without your permission while you are browsing insecure websites. This type of malware distribution is called drive-by-download, when the computer user is not informed about the changes within the system. Win 7 Protection 2014 is also bundled with other programs, and it may get installed while installing some other program. In order to prevent such occurrences, you should always keep the computer protected, and, if you have a powerful security tool, you are likely to be informed about Win 7 Protection 2014 or any similar threat.
There are three types of license of Win 7 Protection 2014, and the price varies from $59.95 to $99.95. After activating the program, you can use the computer as usual, and it has been found that it is enough to use fake information in order to regain access to your executable files. However, it is not enough to active the program. Win 7 Protection 2014 has to be removed from the system entirely, and you can do it with the help of our recommended security program. Below you will find our step-by-step instructions that will help you install our recommended program, and, if you have any questions concerning the rogue program, leave a comment below.
How to remove Win 7 Protection 2014
Restart the computer.
Wait for the BIOS screen to load and start tapping the F8 key.
Select Safe Mode with Networking.
Press Enter.
Go to http://www.spyware-techie.com/removal and download SpyHunter.
Install the program and launch a system scan.
In non-techie terms:
Win 7 Protection 2014 is a bogus security program that can enter the computer without your permission. If you have Win 7 Protection 2014 on your PC and want to use the machine as usual, remove the malicious program right now.