Do you know what Win 7 Defender 2013 is?
Win 7 Defender 2013 is a rogue antispyware application that enters your computer with intention to steal your money. It is a "twin" of XP Defender 2013 and a direct descended of Win 7 Total Security, XP Home Security 2012 and other similar rogues. The special feature of Win 7 Defender 2013 is that it might also be installed as XP Defender 2013. Everything depends on what operating system you have installed on your computer. Thus, Win 7 Defender 2013 is a chameleon rogue that tries its best to rip easy financial gain.
This rogue tries its best to pass for a real antivirus program, because it needs the user to believe it. It displays a list of fake security advertisements, and performs a full (FAKE!) system scan. After the scan Win 7 Defender 2013 presents the user with a list of malware that is supposedly infecting his system. The list includes, IRC-Worm.DOS.Septic, IM-Worm.Win32.Kelvir.k, Happy_II.506 and other similar computer threats that are not made up, but they DEFINITELY do not reside in your computer.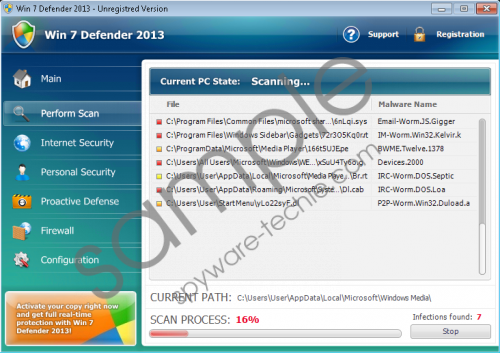 Win 7 Defender 2013 screenshot
Scroll down for full removal instructions
Right after the installation Win 7 Defender 2013 changes the registry settings that allows this rogue to load automatically together with your system. Then you will be bombarded with fake security notifications that will try to convince to buy the full version of Win 7 Defender 2013.
System hijack!
System security threat was detected. Viruses and/or spyware may be damaging your system now. Prevent infection and data loss or stealing by running a free security scan

Security breach!
Beware! Spyware infection was found. Your system security is at risk. Private information may get stolen, and your PC activity may get monitored. Click for an anti-spyware scan
Win 7 Defender 2013 cannot offer you a real protection. You have to get rid of this rogue in order to get your system back to normal. If Win 7 Defender 2013 blocks your executables, you might also be blocked from accessing the Internet, so you need to remove Win 7 Defender 2013 before any of that happens.
It is a lot easier to terminate Win 7 Defender 2013, if you have it "registered". It can be done with this registration code:
3425-814615-3990
After the rogue is subdued you need to get yourself a real computer security program and remove Win 7 Defender 2013 from your system for good. If you do not do that, the rogue will return sooner or later, causing an ultimate system breakdown.
In non-techie terms:
Win 7 Defender 2013 is a dangerous computer threat that wants to rip you off. It damages your system trying to make you pay for a non-existent service. You must erase Win 7 Defender 2013 from your computer with a reliable antimalware program, making sure that the rogue does not infect you again.
Aliases: Win 7 Defender.