Do you know what Win 7 Antivirus 2014 is?
Win 7 Antivirus 2014 is just one more typical rogue security software that has been infecting systems of numerous users lately. The malicious application is compatible with Windows XP, Windows Vista, Windows 7, and Windows 8. Thus, you might encounter this rogue security software with different names such as XP Antivirus 2014, Win 8 Antivirus 2014, Vista Protection 2014, and a few others. Win 7 Antivirus 2014 is nothing more but an application that was created to profit from unsuspecting users. Do not trust any scan results or warning messages provided by Win 7 Antivirus 2014. In order to stop the malicious and annoying activities caused by this rogue antispyware you will need to remove Win 7 Antivirus 2014 without hesitation.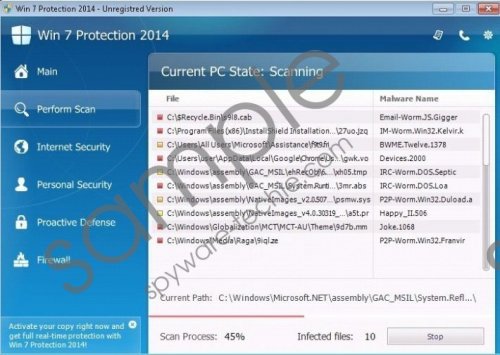 Win 7 Antivirus 2014 screenshot
Scroll down for full removal instructions
Once Win 7 Antivirus 2014 enters your operating system it will insert an .exe file that will be triggered by a registry entry created also by this malicious application. Therefore, Win 7 Antivirus 2014 will auto-start each time with the Windows system. It will also run fake system scans that will provide hoax results in order to manipulate you into purchasing a full version of Win 7 Antivirus 2014. Do not pay for this nasty application as, ironically, it should be removed instead of the non-existent threats that are shown to you by Win 7 Antivirus 2014.
In addition to that Win 7 Antivirus 2014 will also slow down your operating system significantly. Also, most of the .exe files will not function as long as Win 7 Antivirus 2014 will be running on your PC. This malicious piece of software kills the processes of numerous .exe files as soon as you try to launch them. You will not be able to use any web browser, video or audio player, instant messaging program, or Task Manager. Thus, your computer will be almost useless. It is important to remove Win 7 Antivirus 2014 not only to regain full functionality of your PC but to ensure security of your system.
Reports also revealed that Win 7 Antivirus 2014 might expose your system to other infections. Often such applications as this rogue security software are used as a gateway into your operating system. It is self-evident that if you want to maintain a normally functioning and secure system you must delete Win 7 Antivirus 2014 immediately.
It is very important to remove Win 7 Antivirus 2014 because you risk infecting your system with other infections as long as this rogue antispyware is present on your PC. The removal processes are quite basic and can be executed by users with no advanced computer knowledge. You must implement a trustworthy malware detection and removal tool in order to safeguard your system in the future against other internet-based infections.
How to remove Win 7 Antivirus 2014
Restart your PC.
Now as your system is loading tap the F8 keys repeatedly.
Now select Safe Mode with Networking using the arrow keys.
Once the system is loaded open your browser.
Go to: www.spyware-techie.com/download-sph
Download and install the antimalware tool.
Scan your operating system for virtual threats.
Now click Fix Threats in order to remove Win 7 Antivirus 2014.
In non-techie terms:
It is extremely important to run a reliable antimalware tool at all times, otherwise you risk infecting your PC with Win 7 Antivirus 2014 or any other internet-based infection. Most of infections can cause a lot of trouble to your operating system. If you wish to keep your data safe and secure do not hesitate and invest in a professional antimalware tool.