Do you know what Websrch.mob is?
As you can obviously see, Websrch.mobi is a domain address, so we are talking here about a website that our research team label as search engine. What can be possibly wrong about search engines? Well, technically, a search engine all by itself cannot do much harm, but it depends on who or what might exploit it. The point is that if you get redirected to Websrch.mobi or your default search engine suddenly got changed to this domain, there is a very good chance that you have unwanted software installed, and you must remove it as soon as possible.
We do not have a lot of information on this search engine because it is not extremely popular. We just know that users might face several issues if suddenly Websrch.mobi is set as their default search engine. It is also highly possible that Websrch.mobi could be used as a test subject by software developers (especially when it comes to potentially unwanted programs), so it is very likely that we are looking at a composite application here. And if you need to terminate Websrch.mobi, you may also have to look for other undesirable programs, too. So while you are at it, you should consider scanning your computer with a security tool.
As far as we can tell, Websrch.mobi itself is not too problematic. Of course, it does misguide users because it looks like it might provide them with an original search service. However, it does nothing of a kind, as it makes use of the Bing search engine. The good thing here is that we haven't found any proof that would suggest the search engine's displaying of modified search results. Modified search results are a very common part of the overall browser hijacker ordeal, so that's something we would expect of Websrch.mobi as well, but so far, the search engine does not indulge into that.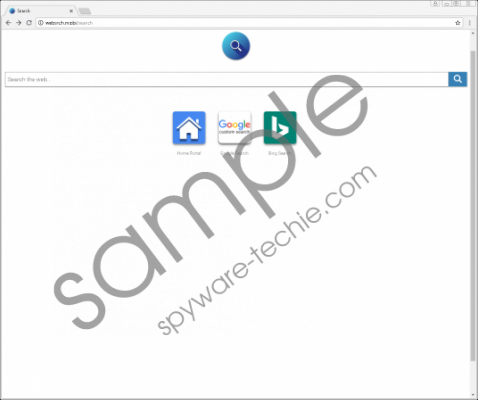 Websrch.mobi screenshot
Scroll down for full removal instructions
On the other hand, just because this search engine does not employ tracking cookies to collect information on your web browsing habits, it does not mean that another part of the program that the search engine may come with would not do that. Perhaps it is somewhat complicated to grasp, but our research team believes this search engine might as well be a part of a browser hijacker designed for major browsers. By major browsers, we mean Internet Explorer, Chrome, and Firefox. Take note that Edge has not been affected by this search engine yet.
So, rather than being a direct security threat itself, Websrch.mobi may function more as a tell-tale sign, that there could be potentially unwanted and perhaps dangerous programs on your computer. All boils down to the fact that such applications often travel in software packages and users download them willingly. Of course, you would never want to install a potentially harmful program on your computer, so how do these unwanted programs slither into target systems?
The point is that users WANT to install these programs, but they do not know that they are about to install an entire bunch of them. For example, someone wants a file format converter and finds it on a file-sharing website. The file converter comes for free, but the user does not consider the possibility that the installer may come with additional applications. So the user downloads the application and launches the installation. Although it is often possible to avoid install unnecessary applications, users tend to skip most of the steps in favor of a speedy setup. As a result, quite a few unwanted programs might get added to the target system.
The bottom line is that if you see Websrch.mob on your browser, you should get rid of this search engine and then look for other potentially unwanted programs because it might be associated with an entire list of undesirable applications. To make this task easier, get yourself a powerful security tool that will help you scan your computer automatically. If more unwanted programs are detected, please terminate them at once, and then safeguard your computer from similar intruders in the future. Should you encounter any difficulty while trying to protect your PC, do not hesitate to contact us and our team will assist you with anything.
How to Delete Websrch.mob
Internet Explorer
Press Alt+T and go to Internet options.
Select the Advanced tab and press Reset.
Mark Delete personal settings and click Reset.
Press Close.
Chrome
Press Alt+F and open Settings.
Click Advanced at the bottom of the page.
Press Reset Settings and click Reset to complete.
Firefox
Press Alt+H and go to Troubleshooting information.
Press Refresh Firefox at the top right of the new tab.
Click Refresh Firefox again and click Finish.
In non-techie terms:
The truth is that there isn't anything too dangerous about Websrch.mob. It is more about the programs that might arrive with this search engine. So the first thing that you have to do if you see this domain on your browser is scanning your computer with a security tool of your choice. And when you remove all the unwanted programs, then you will be able to take care of this search engine, too. Finally, do not forget to invest in a legitimate antispyware tool.