Do you know what WebSpeed is?
WebSpeed is a tool that should determine your Internet connection speed. It is advertised as a useful tool that every user should have, so it is not surprising that quite a few users have WebSpeed running on their system. Truth be told, WebSpeed is nothing more than your average adware application. The dubious program will do nothing but disturb you while you are surfing the web, thus making it a frustrating experience, to put it mildly. Unfortunately, there is also something worse about WebSpeed, as the adware application could be the reason your system is infected with other Internet-based infections. So it is quite natural that malware experts at Spyware-Techie.com advise you to remove this suspicious program as soon as it is discovered on your operating system. Use the removal guide provided below to help you delete WebSpeed immediately.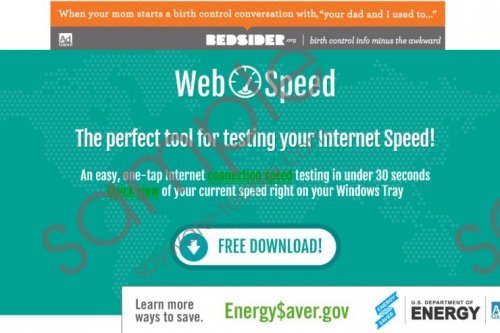 WebSpeed screenshot
Scroll down for full removal instructions
WebSpeed cannot be downloaded from the official website, because the download link does not work. Research has revealed that WebSpeed is mostly distributed via software bundles and is usually bundled within installers such as InstallCore and Vittalia. Generally, such installers are up for download on suspicious third-party hosting websites. Your best bet to avoid getting your operating system infected in this manner is to avoid such websites at all times. It is important to keep a clean and secure system, so you are advised to implement a reliable antimalware tool, as it will provide real-time security.
Unlike other adware applications, WebSpeed does not rely on browser extensions to display third-party adverts while you are browsing the web. In fact, once WebSpeed successfully enters your operating system, it will start a Windows system process known as webspeed.exe, which is responsible for all those third-party adverts displayed while you are browsing the web. The system process can be killed by using the Task Manager, but the annoying activity promoted by will not stop entirely. In order to restore the normal functionality of your browser, you will need to remove every bit of WebSpeed.
The removal of WebSpeed is crucial, as it has been found that this invasive adware program could be used by other Internet-based infections as a gateway into your operating system. A single file or registry entry could start a download without requiring authorization from you. Thus, you could end up with some unknown malware on your system. Your system is at great risk as long as WebSpeed is running on your PC. Remove WebSpeed using the instructions below.
How to remove WebSpeed
Remove WebSpeed from Windows 7 and Windows Vista
Click the Windows button.
Select Control Panel.
Click Uninstall a program.
Right-click WebSpeed and select Remove.
Remove WebSpeed from Windows 8
Move the mouse cursor to the bottom right corner of the screen.
Select Settings in the Charm bar.
Click Control Panel and select Uninstall a program.
Select WebSpeed and click Uninstall.
Remove WebSpeed from Windows XP
Click the Start button.
Click Control Panel.
Select Add or Remove Programs.
Double-click WebSpeed.
Confirm that you want to remove WebSpeed.
In non-techie terms:
If you wish to remove WebSpeed automatically without having to worry about potential leftovers that could act quite maliciously, please follow the instructions provided below.