Do you know what Websearch.youwillfind.info is?
Websearch.youwillfind.info is an annoying application that intrudes on your web browsing habits by changing some settings of your favorite browser. Once it is on your computer, switching to another browser will not help if it is Internet Explorer, Mozilla Firefox, or Google Chrome, as Websearch.youwillfind.info works on all three. This application is classified as a browser hijacker by our security researchers. While there are some less popular web browsers you could use to avoid Websearch.youwillfind.info, it is much better to just remove Websearch.youwillfind.info from your computer and keep navigating the Internet as you are used to.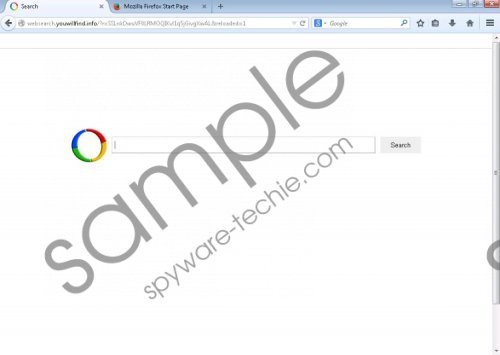 Websearch.youwillfind.info screenshot
Scroll down for full removal instructions
Websearch.youwillfind.info is one of many identical browser hijackers. You can recognize them by their addresses. These kinds of hijackers always start with "websearch." The remaining address is semi-random; however, it is more than likely that it will end with ".info." For example, you could look at Websearch.AmaizingSearches.info, Websearch.Searchoholic.info, or Websearch.oversearch.info, among many others. If you are hesitant to remove this hijacker from your computer, do not be. You will not miss it at all, because it does not do anything special. Delete it without any regrets.
When installed on your computer, Websearch.youwillfind.info hijacks your default homepage, collects browsing information, and shows you commercial advertisements. Most people develop their browsing routine over a long period of time, and a different homepage can destroy it, causing discomfort. Websearch.youwillfind.info collects information that could help its ads attract you enough that you click them, getting redirected to a third-party website in the process. These websites could contain dangerous malware downloaders hiding behind the guise of an update link for a program you use every day. They could also host adware, which would flood your browser with even more annoying advertisements. Do not keep Websearch.youwillfind.info on your computer. Believe us when we say that it is best to remove all traces of it from your system.
While it is not very difficult to remove Websearch.youwillfind.info, an average computer user could get lost among the browser settings. Our detailed instructions will certainly help you, but there is a simpler way to get rid of this hijacker. All you would have to do is this: download and install our professional spyware removal tool. Once it loads, you will only have to run a full system scan. It will find all threatening programs. It can also uninstall them with one click of your mouse.
Websearch.youwillfind.info Removal
Google Chrome
Go to chrome://settings via your address bar.
Find the On Startup section, select Open a specific page or set pages, and click Set pages.
Find and delete Websearch.youwillfind.info then click OK.
Find the Appearance section, check the Show Home button box.
Click Change, delete Websearch.youwillfind.info, and click OK.
Go to the Search section and click Manage search engines.
Find your favorite search engine and click Make default next to its name.
Delete Websearch.youwillfind.info by clicking X. Confirm by clicking Done.
Mozilla Firefox
Press Alt+T, go to Options, and click the General tab.
Delete the homepage URL, change it to your preferred homepage address, and click OK.
Click the small triangle next to your search provider icon in the search box.
Click Manage search engines and Remove Websearch.youwillfind.info.
Click OK.
Internet Explorer
Press Alt+T, go to Manage add-ons.
Click Search Providers, choose your favorite search provider as default.
Remove Websearch.youwillfind.info from the list.
Press Alt+T again and go to Internet Options.
Click the General tab and delete your homepage URL.
Set your new homepage and click OK.
In non-techie terms:
Websearch.youwillfind.info is a browser hijacker that changes your homepage address to Websearch.youwillfind.info, tracks your browsing, and annoys you with ads. You should not suffer through all of that, so we recommend removing Websearch.youwillfind.info from your system.