Do you know what Websearch.searchtheuniverse.info is?
Websearch is a group infamous for developing numerous intrusive browser hijackers. One of their newest installments is known as Websearch.searchtheuniverse.info. If, unfortunately, you have noticed that this hijacker is active on your operating system do not waste your time and conduct its thorough removal as soon as possible. This is important because the hijacker in question exhibits numerous suspicious and even potentially malicious features. Running it on your PC could have rather devastating outcomes as it could turn out to be the reason your PC is riddled with various infectious programs. If you are a security-conscious users this information alone should be enough to make you see that germinating this hijacker is paramount. Read the rest of this article and learn how Websearch.searchtheuniverse.info functions and how can you delete it in the quickest way possible.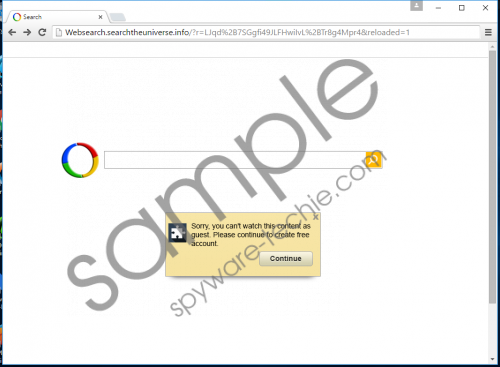 Websearch.searchtheuniverse.info screenshot
Scroll down for full removal instructions
Our research team is well acquainted with infections of the Websearch family; thus, finding out that Websearch.searchtheuniverse.info functions in a rather similar way that other hijackers developed by this notorious group is not shocking at all. The most annoying feature that this hijacker exhibits is that it can easily modify default settings of web browsers such Mozilla Firefox, Google Chrome, and Internet Explorer, without any authorization. This is not only annoying as it might seem at first. Even though you will be forced to start every browsing session on a questionable third-party website, there is something much worse about this hijacker. Malware analysts at our internal labs have found out that this hijacker provides a rather suspicious browser hijacker that could be the reason you might expose your PC to questionable web content. This is so because in some cases the engine might present you with results that could turn out to contain redirect links. Do not risk getting your PC infected with other suspicious or even malicious programs and conduct a complete removal of Websearch.searchtheuniverse.info without any hesitation.
If you wish to have a virtually unbreakable operating system, you must take preventative steps to achieve that. Firstly, you must know that the most common way that users get their computer infected is via software bundles. You can avoid installers filled with numerous suspicious programs by bypassing all questionable third-party download websites since they are infamous for being the primary source of those unwanted software packages. Additionally, you must know that it is imperative never to skip a setup step since you could miss an opportunity to cancel the installation of some unwanted third-party program. Finally, you need to have a reliable antimalware tool on your PC at all times. This is paramount since such a tool can warn you about suspicious or potentially malicious websites and download beforehand.
The removal of Websearch.searchtheuniverse.info is not that complicated that because you can simply delete it via Control Panel. It is important not to skip any steps in the removal procedure as just a single skipped step could result in a non-complete removal of this hijacker. It is important to run an in- depth analysis of your operating system for potential leftovers to be sure that every single bit of Websearch.searchtheuniverse.info has been removed from your PC.
How to remove Websearch.searchtheuniverse.info from your computer
Windows Vista and Windows 7
Tap the Windows key on your keyboard.

Select Control Panel and click Uninstall a program.
Right-click Websearch.searchtheuniverse.info.
Select the Uninstall option.
Windows XP
Click Start.
Select Control Panel.
Click Add or Remove Programs.
Select the unwanted application.
Click Uninstall.
Windows 8
Move the mouse pointer to the lower-left corner of the screen.
Right-click.
Select Control Panel.
Click Uninstall a program.
Double-click Websearch.searchtheuniverse.info.
Confirm that you want to remove it.
In non-techie terms:
We are well aware that quite a few users might not be feel entirety comfortable removing this browser hijacker manually. If you follow the instructions that we provide below, you will be able to terminate the intrusive browser hijacker in an automatic way.