Do you know what Websearch.searchsunmy.info is?
Websearch.searchsunmy.info is not a reliable search engine because it does not work beneficially and it could take over your regular search tools without your consent. The so-called browser hijacker presents suspicious online advertisements and performs redirecting to search.google.com. This activity, as well as the interface of the search engine, mimics the actions of Websearch.searchisbestmy.info, Websearch.searchguru.info, Websearch.search-guide.info and tens of other similar hijackers. Having Websearch.searchsunmy.info deleted is in no way different than having these other hijackers removed, simply because they belong to the same family and work identically. So, how should you delete the undesirable search engine?
Before you commence any Websearch.searchsunmy.info removal procedures you need to discover how this browser hijacker managed to corrupt your Mozilla Firefox, Google Chrome and Internet Explorer browsers. In some cases you could have accepted this search tool to replace the existing default search engine and home page yourself. It is also possible that you have installed questionable freeware without realizing that you have an option to accept or refuse additional programs and extensions. If you are guaranteed that your recent download activity has nothing to do with the appearance of the undesirable search engine, malware activity should be discussed. Have you noticed that your PC is running unusually? Have you found other suspicious, unfamiliar programs running on the system? If you have you need to inspect them right away because you might need to delete them.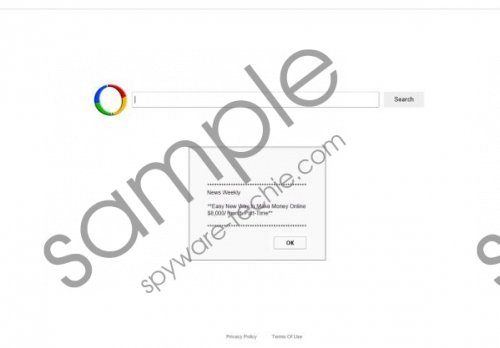 Websearch.searchsunmy.info screenshot
Scroll down for full removal instructions
Not many people are experienced with manual removal procedures, which is exactly why you may struggle with Websearch.searchsunmy.info removal yourself. In fact, you do not need to worry about this at all because automatic malware removal software can be trusted without further questions. If you install an authentic security tool, all threats will be deleted and your PC will gain full-time protection. What is more, you will be free to change undesirable search options.
Delete Websearch.searchsunmy.info
Delete from Mozilla Firefox:
Launch the browser and click the search provider icon on the search box.
Click Manage Search Engines and Remove the undesirable option. Click OK.
Simultaneously tap keys Alt+T to open the Tools menu and select Options.
Click the General tab, remove the unwanted Home Page URL and hit OK.
Delete from Google Chrome:
Launch the browser, simultaneously tap Alt+F and select Settings.
Go to On Startup, mark Open a specific page or set of pages and click Set pages.
Remove/change the URL of an undesirable search provider and click OK.
Go to Appearance, mark Show Home button and click Change.
Now repeat step 3 to remove undesirable option.
Under Search click Manage search engines and choose a new default search engine.
Click X to remove the unwanted search engine and select Done.
Delete from Internet Explorer:
Launch the browser, simultaneously tap Alt +T and select Manage Add-ons.
Choose a default search provider and Remove the undesirable option. Click Close.
Simultaneously tap Alt+T again and select Internet Options.
Click the General tab, remove the unwanted Home Page URL and hit OK.
In non-techie terms:
To delete Websearch.searchsunmy.info search engine from the active Mozilla Firefox, Google Chrome and Internet Explorer browsers, you can follow the presented instructions. To delete all existing files related to a browser hijacker and to remove additionally existing PUPs or malware which potentially could be running on the PC – install automatic malware removal software. If Windows security tools already exist on your computer and the browser hijacker still managed to get through, our researchers advise that it is high time you replace them with more reliable, up-to-date software.
Aliases: searchsunmy.info.