Do you know what Websearch.searchouse.info is?
Websearch.searchouse.info is a browser hijacker that will enter your system unexpectedly with other unwanted and potentially dangerous applications. This infection will change your default browser settings, as it tries to redirect you to affiliated websites. Websearch.searchouse.info needs to generate financial profit for its creators to cover its development costs. However, the methods this browser hijacker applies are highly doubtful and potentially harmful, so you should not just sit and watch it happen. Please remove Websearch.searchouse.info from your computer the moment you notice the browser settings modifications, and then do away with the rest of the malicious threats.
We are confident about the potential threat posed by this browser hijacker because we have dealt with similar infections before. Websearch.searchouse.info comes from the so-called Websearch family of browser hijackers. The group includes countless infections that have been bothering computer users worldwide for quite some time now. Websearch.searchouse.info is a direct clone of websearch.hotsearches.info, websearch.goodfindings.info, websearch.simplesearches.info, and so on. Therefore, we know what to expect of this infection and how to deal with it. In fact, it would be better if you managed to avoid getting this browser hijacker on your system, but that would not be possible unless you employed safe web browsing habits.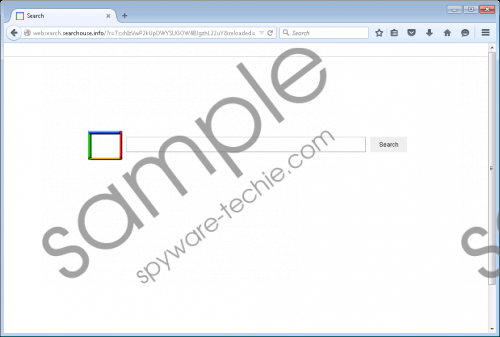 Websearch.searchouse.info screenshot
Scroll down for full removal instructions
For starters, this browser hijacker does not get distributed on its own. In other words, it does not have an official homepage that would allow you to download the program or add it to your browser directly. Rather than that, Websearch.searchouse.info travels around in software packages, so it gets installed on target systems with several other unwanted applications. For example, according to our research, the browser hijacker may come along with Optimizer Pro and Lightning Downloader potentially unwanted programs. What's more, it is rather common for these hijackers to travel with the Multiplug adware applications. So, it never rains, but it pours when it comes to potential computer security issues.
When you get infected with this browser hijacker, the most important thing is not to panic. The program will affect Google Chrome, Mozilla Firefox, and Internet Explorer, but as long as you do not click anything on the site, you should be just fine. Does it mean that you can leave Websearch.searchouse.info be? Well, not really. The browser hijacker will definitely collect information on your browsing habits, and sooner, rather than later, you will be exposed to an increasing amount of specially tailored commercial content. Some of the content will be embedded with outgoing links that lead to corrupted websites.
If you happen to click any of the ads displayed by Websearch.searchouse.info, and you land on a dangerous website, it is only a matter of time until you get infected with malware. Please do not take your chances and remove Websearch.searchouse.info from your computer immediately.
This browser hijacker cannot be removed via Control Panel, but you can reset your browser settings to default, and the Websearch.searchouse.info domain will be gone. However, that is not all, as you must also delete all the other related applications from your computer. To make sure that you have taken care of every single unwanted program, after manual removal, scan your computer with the SpyHunter free scanner.
How to Remove Unwanted Programs
Windows 10, Windows 8.1 & Windows 8
Right-click the Windows icon on your taskbar.
Select Control Panel on the drop-down menu.
Open Uninstall a program and remove unwanted applications.
Windows Vista & Windows 7
Open the Start menu and click Control Panel.
Go to Uninstall a program and remove unwanted applications.
Windows XP
Click the Start button and navigate to Control Panel.
Select Add or remove programs and uninstall unwanted applications.
Restore Your Browser Settings
Internet Explorer
Press Alt+T and click Internet options.
Go to the Advanced tab and click Reset.
Select Delete personal settings and press Reset.
Click Close.
Mozilla Firefox
Press Alt+H and click Troubleshooting information.
When the new tab opens, click Refresh Firefox.
Press Refresh Firefox again and click Finish.
Google Chrome
Press Alt+F and go to Settings.
Click Show advanced settings at the bottom.
Scroll down and click Reset settings.
Press Reset.
In non-techie terms:
Websearch.searchouse.info is a search engine that is used by a browser hijacker. You get infected with this hijacker when you download programs from unofficial websites. If you do not remove Websearch.searchouse.info from your computer, you will soon be infected with serious computer security threats, and your financial information will be stolen. Do not allow this to happen, and take care of your computer's security right now.