Do you know what Websearch.searchdwebs.info is?
If you want to avoid trouble arising from being subjected to malicious digital content, then you should remove Websearch.searchdwebs.info from your computer, because it is not a search engine. Our researchers have classified it as a browser hijacker. And, as such, it is programmed to automatically change your browser's homepage. But that is not the end of it as it is also set to prevent you from resetting the homepage. Furthermore, it features third-party advertisements on its main page and is apt to do the same inside its search results. Therefore, we think that is very important to delete this hijacker as soon as possible, because there is no way of knowing if the promoted content in legitimate.
Browser hijackers are never distributed as standalone applications — they are always bundled with other programs. In the case of Websearch.searchdwebs.info, we know that is bundled with adware and potentially unwanted programs. Its developers exclusively use the InstallRex installer, which is a common choice for developers of malicious software. The finished malicious bundles are then put up for download on torrent and other p2p websites. However, it must be said that they are featured as fake download buttons, so you could have only got this hijacker by accident.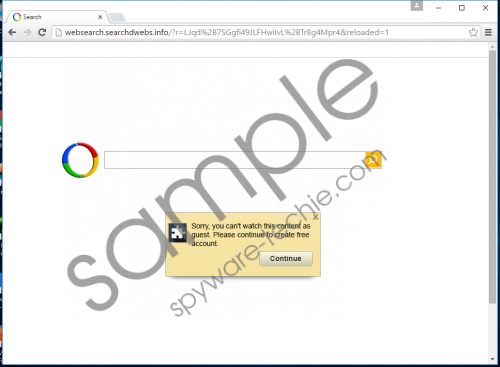 Websearch.searchdwebs.info screenshot
Scroll down for full removal instructions
Websearch.searchdwebs.info's developers are unknown, but we at Spyware-techie.com are quite familiar with this type of hijacker. The fact of the matter is that its mysterious developer has been releasing clone hijackers for years. Among the more releases are Websearch.searchplazanow.info, Websearch.searchdominion.info, and Websearch.hotsearches.info. Their common similarities include the word Websearch at the beginning of the address and the main page that looks like a cheap knockoff of Google.com.
Regardless, it is paramount to know exactly what Websearch.searchdwebs.info does in order to fully understand what the potential risks it poses. This hijacker is installed without your knowledge or approval. It is set as the default homepage and its developers have employed several methods that keep web traffic flowing to this hijacker. Firstly, this hijacker modifies the Target line, thus resetting Websearch.searchdwebs.info each time you restart the browser. Furthermore, it may install a program that will modify the Target line again if you fix it.
Websearch.searchdwebs.info is part of a web monetization scheme and the only reason its developers resort to browser hijacking is to generate as much web traffic as possible. High web traffic means that the developers make more money, because more users click the promotional links and ads. As mentioned, Websearch.searchdwebs.info may show advertisements in its search results. However, we want to express our concern that the ads may be unreliable as they come from unverified sources. The same can be said about the ads that are displayed on this hijacker's main page.
In conclusion, Websearch.searchdwebs.info righty deserves to be called a browser hijacker, because it not only modifies the homepage settings, but also does all it can to prevent you from getting you old search engine back, by making unauthorized changes to your browser's settings. Its search results are also questionable, because they are apt to include promotional links. Therefore, we invite you to remove Websearch.searchdwebs.info from your computer using our removal guide.
How to remove Websearch.searchdwebs.info
Windows 8 and 8.1
Right-click on the Start screen.
Click Programs and Features.
Locate Websearch.simplesearches.info affiliated programs.
Right-click on them.
Click Uninstall.
Windows 7 or Vista
Click Start.
Select Control Panel.
Click Uninstall a program.
Locate Websearch.simplesearches.info affiliated programs.
Right-click on them.
Click Uninstall.
Windows XP
Open the Start menu.
Click Control Panel.
Select Add or Remove Programs.
Locate Websearch.simplesearches.info affiliated programs.
Remove them.
Rollback the changes made to the browser's Target line
Right-click on Firefox, Chrome, Internet Explorer.
Select Properties.
Open the Shortcut tab.
Remove Websearch.searchdwebs.info address from the Target line.
Click OK.
Remove affiliated Websearch.searchdwebs.info extensions
Microsoft Internet Explorer
Open the browser.
Press Alt+T and click Internet Options.
Open the Advanced tab and click Reset.
Select the checkbox.
Click Reset and then click Close.
Mozilla Firefox
Open the browser.
Press Alt+H and click Troubleshooting Information.
Click Refresh Firefox.
Click Refresh Firefox again in the dialog box.
Finish.
Google Chrome
Open the browser.
Press Alt+F and click Settings.
Click Show advanced settings.
Click Reset settings and click Reset.
In non-techie terms:
Websearch.searchdwebs.info in nothing more than a browser hijacker that modifies the browser and sets itself as the default homepage, this generating web traffic and making money for its developers. Its search results feature promotional links and advertisements that are unreliable in nature, so we do not recommend using it. If you want to get your old homepage back, then you ought to remove Websearch.searchdwebs.info from your computer, and we very much encourage doing it.