Do you know what websearch.lookforithere.info is?
Websearch.lookforithere.info is an insecure search engine which can be promoted via various free applications. It could be a mp3 downloader or some other application that causes the installation of the program that alters the setting of your browsers. It has been found that this so-called browser hijacker can change the home page and search provider on Internet Explorer, Google Chrome, and Mozilla Firefox. Unlike in other cases when search engines display links to advertising websites, Websearch.lookforithere.info can also display pop-up advertisements; therefore, it is advisable to remove Websearch.lookforithere.info as soon as possible.
It is important to ignore pop-up ads as they can lead to insecure websites offering you to play online games or fill in a form in order to receive some prize that you have supposedly won. Not all advertisements are reliable. Some of them can be used to drive more traffic and earn money by employing the pay-per-click method. Other advertisements may promote services or items that are actually non-existent but presented to deceive you into buying them. The pop-ups can be localized which means that they can be provided in your language.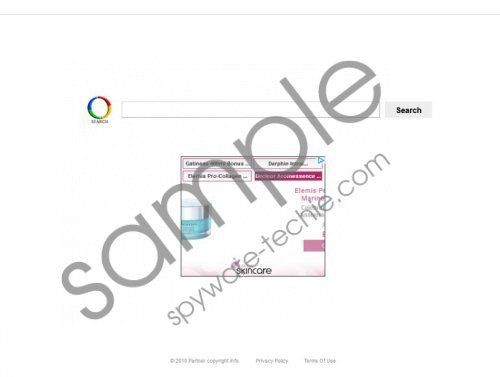 Websearch.lookforithere.info screenshot
Scroll down for full removal instructions
Websearch.lookforithere.info works jointly with search.smartaddressbar.com as the results are presented by the latter. Depending on the search query, the search engine may provide suggestions for your further browsing sessions. In order not to gain unsettling experiences, remove Websearch.lookforithere.info from the PC and your browsers right now.
We highly recommend using a spyware removal tool as this is how you can protect yourself and the system against future inconveniences related to unwanted applications. Use SpyHunter if you want to have Websearch.lookforithere.info removed as this application can do so in no time.
However, if you are determined to get rid of Websearch.lookforithere.info manually, follow the instructions below and then scan the PC with our recommended scanner.
Websearch.lookforithere.info removal
Window Vista and Windows 7
Open the Start menu and click Control Panel.
Select Uninstall a program.
Double-click the program you want to remove.
Windows XP
Open the Start menu - > Control Panel.
Click Add or Remove programs.
Select the program that has changed the settings of the browsers and click the Remove button.
Windows 8
Hover the mouse over the lower left corner of the screen.
Right-click.
Select Control Panel - > Uninstall a program.
Double-click the program that you want to remove.
How to remove Websearch.lookforithere.info from the browsers
Internet Explorer
Press Alt+T.
Click Internet Options.
On the Advanced tab, click Reset.
Check the box given and click Reset.
Click the Close button to end the reset session.
Mozilla Firefox
Press Alt+H.
Click Troubleshooting Information.
Click the Reset Firefox button.
In the new window, click Reset Firefox - > Finish.
Google Chrome
Press Alt+F.
Point to Tools and click Extensions.
Remove the unwanted browser add-on.
Click Settings.
In the On startup section, click Set pages and change the startup page.
In the Search section, click Manage Add-ons and click Manage search engines.
Change the search provider.
In non-techie terms:
Having completed the removal, install the scanner which is available below at no charge and scan the PC to find out whether the system affected by some other threats or not.
Aliases: Websearch.com.