Do you know what websearch.fastosearch.info is?
When your default homepage is changed to websearch.fastosearch.info, the most important thing is not to panic. It is very common that browser hijackers arrive bundled with freeware and you must have accidentally installed websearch.fastosearch.info on your computer as well. You should retrace your steps and figure out which program has brought websearch.fastosearch.info upon your computer. It is important that your remove websearch.fastosearch.info as soon as possible and in case you do not remember installing anything new recently, scan your PC with SpyHunter free scanner – all the potentially unwanted applications will be detected in no time. Since websearch.fastosearch.info is a browser hijacker, we know exactly what it does. It is very likely that when the hijacker is installed on your computer together with adware or freeware applications, you are not informed about the changes that took place. Thus, your homepage and search engine get changed to websearch.fastosearch.info behind your back, and the next time you open Google Chrome, Mozilla Firefox and Internet Explorer web browsers you will see websearch.fastosearch.info as your startup page. One of the most common ways for this infection to spread is to be bundled with applications that are downloaded from websites promoting fake Flash or Java updates.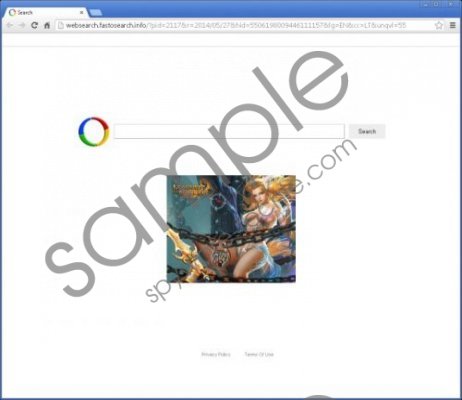 Websearch.fastosearch.info screenshot
Scroll down for full removal instructions The good thing is that it is not complicated to remove websearch.fastosearch.info from your computer manually. In fact, there are users who are not bothered by the fact that some unfamiliar website is set as their default homepage, because websearch.fastosearch.info looks reliable. It can certainly function as a real search engine, but the problem is that the search results are full of commercial content and users might get confused between what is exactly they were searching for and what is just a commercial advertisement. In fact, websearch.fastosearch.info and most of the other browser hijackers are not malicious by nature. They are created to promote and distribute commercial adware-related content in order to generate financial revenue for the people behind it. Thus, unless you click on any commercial ad or link delivered by websearch.fastosearch.info, it is very unlikely that you will get redirected to unfamiliar and perhaps even dangerous websites. However, that does not mean that you can just sit there doing nothing. It is very likely that websearch.fastosearch.info has arrived at your PC bundled with other potentially unwanted programs and in a long term they could expose you various computer security issues. Any security-minded computer user should be concerned to keep his/her system safe, so the sooner you remove websearch.fastosearch.info the better. After manual removal you ought to scan the system with a licensed computer security application again, just to make sure that all the unwanted files and programs have been terminated completely. To protect your system from similar intruders, invest in a powerful security tool.
How to remove websearch.fastosearch.info
Windows 8
Move mouse cursor to the bottom right of the screen.
Click Settings on Charm bar and go to Control Panel.
Open Uninstall a program and remove SNT, SearchNewTab and other related applications.
Windows Vista & Windows 7
Click Start menu and select Control Panel.
Go to Uninstall a program and remove SNT, SearchNewTab and other apps.
Windows XP
Click Start menu button and navigate to Control panel.
Select Add or remove programs and uninstall SNT, SearchNewTab and other adware.
Change browser settings
Internet Explorer
Press Alt+T and click Internet options.
Open Advanced tab and click Reset.
Select Delete personal settings and press Reset.
Click Close.
Mozilla Firefox
Press Alt+H and click Troubleshooting information.
Click Reset Firefox at the top right of a new tab.
Press Reset Firefox on a new pop-up box.
Click Finish.
Google Chrome
Press Alt+F and go to Settings.
Scroll down and click Show Advanced Settings.
Scroll down to Reset browser settings.
Click Reset browser settings button and then click Reset.
In case these instructions do not work, please follow the secondary set of instructions below this article. You can also leave us a comment for any further questions. In non-techie terms: Websearch.fastosearch.info is a browser hijacker that affects your browser settings in order to redirect you to unfamiliar websites. You need to avoid potential computer threats, so you must remove websearch.fastosearch.info from the system immediately.