Do you know what WebPornoTV is?
WebPornoTV is a potentially unwanted program that is very far from being a malicious computer infection, but it is definitely not something everyone should have on one's computer. There is nothing illegal about it and it is perfectly fine to have WebPornoTV installed if it is your personal computer and you are the only one using it. However, if it is a shared computer, you should think twice before installing such an application on it, because the content displayed by WebPornoTV is definitely not intended for minors. Thus, it would be for the best to remove WebPornoTV to avoid any misunderstanding and/or security risks.
This application is mostly used to promote to advertise adult websites, and there are multiple third party file hosting pages that distribute WebPornoTV. The official home page for this application can be accessed via webpornotv.com, but it does not contain a working download link anymore. However, there is also an older download link available at such websites as pc-on-toolbar.com and others. What is more, even if you do not have any intention to install WebPornoTV on your computer, it is probable that WebPornoTV arrives bundled with freeware and before you know it, you have porn advertisements appear on your screen one after another.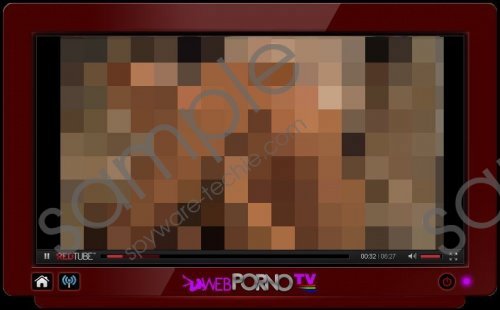 WebPornoTV screenshot
Scroll down for full removal instructions
The reason why WebPornoTV can be added into installers of third party applications is because users can get paid for bundling WebPornoTV with their programs. Therefore, whenever you download anything from unfamiliar or adult websites, bear in mind that there is a possibility you might end up with some additional programs as well.
When this program is installed, it displays a window with adult content that cannot be minimized and it stays on top of all your windows. It can be closed without any difficulties, however, but each time you open an affiliated website, or launch your web browser, it is very likely that you will be displayed the WebPornoTV window again. Due to the fact that WebPornoTV promotes adult videos from redtube.com, it is possible to infer that the application is used to promote this adult videos website.
Apart from displaying an annoying window with adult content, WebPornoTV could also get exploited by suspicious and even malevolent third party to promote and distribute their content. Therefore, users are often recommended to remove WebPornoTV from their computers in order to avoid any potential threats. While you are at it, make sure you uninstall any other applications that could be related to WebPornoTV as well. If you do not know which programs that might be, scan the PC with SpyHunter free scanner and then acquire a powerful antimalware tool if need be.
How to remove WebPornoTV
Windows 8
Move mouse cursor to the bottom right corner of the screen.
Click Settings on Charm Bar and go to Control Panel.
Select Uninstall a program and remove WebPornoTV 2.0.
Windows Vista & Windows 7
Open Start menu and click Control Panel.
Go to Uninstall a program and remove WebPornoTV 2.0.
Windows XP
Click Start menu and go to Settings.
Select Control Panel and open Add or remove programs.
Uninstall WebPornoTV 2.0.
In non-techie terms:
WebPornoTV is a program that might expose you to potentially malicious content. It also displays content that is not suitable to minors, and it is not a good idea to have WebPornoTV on a shared computer. Remove WebPornoTV from the computer to prevent any potential security risks.
Aliases: WebPornoTV virus.