Do you know what WebPlayer is?
WebPlayer is an application which is meant to enable free streaming of your favorite shows as well as live streaming of such French TV channels as Canal+ or France 4. Needless to say, the program is targeted at those Windows users who speak French and who probably live in France. This is why there is no surprise that the program runs web cookies which may help reveal your IP address. The official website for the application is webplayer.tv, and this is where you are supposed to download the program from. Even though the download links are currently inactive, there could be other sources offering the application. You may need to delete WebPlayer if you have downloaded it from unreliable sources and various undesirable applications got installed alongside without your notice. Have you downloaded the application from its official source, and now you wish to remove it? Then continue reading to learn how.
Video streaming applications are often unreliable and are closely linked to virtual scams, adware or personal data collection. To a certain extent, WebPlayer works in the exact same manner. As it has been discovered, this application installs cookies to track your virtual activity and is affiliated to third parties who easily could present you with promotional content. Have you discovered online advertisements popping up more frequently after installing the application onto your personal computer? This is not surprising, and we warn that clicking on the displayed adverts could expose certain system vulnerabilities. Note that the displayed adverts do not follow the same privacy policies as WebPlayer, which is why they should not be trusted blindly. In general, the video streaming program is not considered to be critically dangerous; however, if you do not find the presented services beneficial – delete it.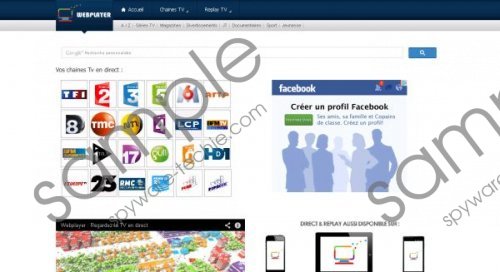 WebPlayer screenshot
Scroll down for full removal instructions
You can follow the manual removal guides below to delete WebPlayer from the PC manually. It is unlikely that authentic security software would detect it as a malicious program, which means that automatic removal is not exactly what you need. Nonetheless, we do recommend installing authentic security tools in order to ensure that the operating system is protected against the attack of potentially unwanted and malicious software in the future.
WebPlayer Removal
Remove from Windows XP:
Open the Start menu from the Task Bar and click Control Panel.
Double-click Add or Remove Programs and locate the undesirable program.
Click the unwanted application and select Remove.
Remove from Windows Vista & Windows 7:
Click the Start menu icon and select Control Panel.
Go to Uninstall a program and locate the program you wish to remove.
Right-click the undesirable program and select Uninstall.
Remove from Windows 8:
Tap the Windows key to access the Metro UI start screen and right-click on the background.
Select All apps, open the Control Panel and click Uninstall a program.
Now right-click the program you wish to remove and select Uninstall.
In non-techie terms:
You can remove WebPlayer from the PC using manual removal guides below. Even though the application is not considered to be extremely malignant, you should consider all of the mentioned activity which could be linked to the program. Note that in order to protect the operating system further it is suggested that you install automatic malware removal software.
Aliases: Web Player virus.