Do you know what WebInternetSecurity is?
WebInternetSecurity is a potentially unwanted application that does not exactly live up to its promises. The main website for this application can be accessed at webinternetsecurtiy.com and there you can read more onto this program. However, the problem is that despite the fact it has a homepage, WebInternetSecurity is not available for download at the main website. Thus, if you have WebInternetSecurity installed on your computer, it is very likely that the application has arrived bundled with freeware, and as a result, it would be for the best to remove WebInternetSecurity immediately.
We are not trying to say that WebInternetSecurity is a dangerous computer infection. It is actually a tool that is supposed to make your internet browsing a lot safer experience. The application is supposed to operate quietly in the background and alert you only when you encounter dangerous content online. On the other hand, it means that the program works in the background of your system all the time, and WebInternetSecurity loads automatically each time you turn on your computer.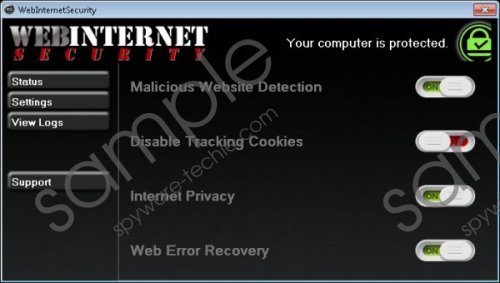 WebInternetSecurity screenshot
Scroll down for full removal instructions
It would be that much of a problem if WebInternetSecurity could actually do what it promises. However, this program does not seem to be able to improve your internet security or protect you from annoying and potentially dangerous ads. Quite on the contrary – since WebInternetSecurity is often bundled with freeware applications, this program may be related to potential computer security threats that you should not ignore if you are concerned about your system's safety.
Since WebInternetSecurity can no longer be downloaded at the official website, you need to avoid such programs as Sizlsearch, MyPCBackUp, GreatArcadeHits, Conduit Search Protect and many other, because WebInternetSecurity has been reported to be bundled with the aforementioned programs' setup files. Once you install any of the programs onto your computer, WebInternetSecurity gets installed automatically as well, and the program keeps on running in the background until you actually remove it.
Luckily, WebInternetSecurity does not modify your browser settings and do not add any extensions. It means that if you want to terminate the application, you only need to remove it via Control Panel. However, removing WebInternetSecurity alone may not be enough to ensure your system's security.
Scan your computer with SpyHunter free scanner and then delete all the potentially unwanted applications that have been detected. What is more, to ensure your system's security and stability, invest in a reliable antimalware application.
Uninstall WebInternetSecurity
Windows 8
Move mouse cursor to the bottom right corner of the screen.
Click Settings on Charm bar and go to Control Panel.
Select Uninstall a program and remove WebInternetSecurity.
Windows Vista & Windows 7
Open Start menu and click Control Panel.
Select Uninstall a program and remove WebInternetSecurity.
Windows XP
Open Start menu and go to Control Panel.
Double-click Add or remove programs and uninstall WebInternetSecurity.
In non-techie terms:
WebInternetSecurity should block annoying pop-ups and other type of content on the Internet. However, this program does not do anything it is supposed to do, so there is no need to have it on your computer. Remove WebInternetSecurity and other useless programs from your PC right now.