Do you know what WebBars is?
Depending on your point of view, WebBars could be classified as several different pieces of software. It might be considered adware or a potentially unwanted program. Technically, the application is a browser add-on that might cause you particular nuisances. Since any user wants to continue using their computer safely, it is for the best to remove WebBars and other similar applications from your system. You will find the manual removal instructions right below this description, but if you need any more information on computer security, you can always leave us a comment and our team will contact you.
Our research team has tested this application in their lab, and they have come up with several symptoms that might not be too nice to deal with. For example, if you have this add-on installed on your computer, you can expect to see a lot of commercial advertisements when you browse the Internet. What's more, the add-on also affects Internet Explorer and Firefox by hijacking the homepage. It means that, depending on your settings during the installation, the next you open your browser, you might see webbars.ru set as your homepage (or any other affiliated website for that matter).
What's more, WebBars may also change your default search engine, and that is definitely something one should not ignore. Here you might say that this application is very much like a browser hijacker because it changes your browser settings without your permission, but the truth is that browser add-ons DO inform you about the oncoming changes. The problem is that users seldom realize that they agree to various modifications. It is very likely that this application notifies you of all the oncoming changes when you install it, but since users tend to skip various installation steps, these notifications are practically void.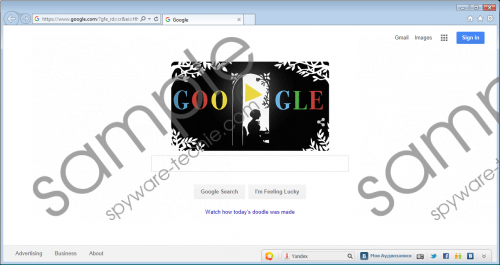 WebBars screenshot
Scroll down for full removal instructions
Now, you may also say that WebBars is probably a malicious infection because it appears out of nowhere. This is not exactly true. As you can probably tell, the program has an official website via webbars.ru. And if you say that you have never accessed the page before, then we would also point out that potentially unwanted programs have more than just one distribution method. For instance, it is highly possible that you have downloaded the application bundled with other freeware from file-sharing websites. The traffic data shows that this program can come in a software package with specific freeware apps that are downloaded primarily in the Russian Federation. Nevertheless, it does not mean that people in other countries cannot be affected by this program at all. It simply says that the add-on is more region-specific.
Either way, when this program is already added to your browser, you will see that it manifests its presence by displaying a small icon at the bottom corner of your browser's window. Like this, the program will be able to collect information on your web browsing habits and, consequently, expose you to loads of customized advertisements. In fact, the program's EULA states that "The user agrees that by installing this Software he is agreeing to view advertisements that come in forms of banners on the webpages the user is currently browsing." Thus, technically, users cannot even complain about the ads because they supposedly agreed to it.
Naturally, constant commercial ads are more annoying than dangerous, but there are specific security risks here that should be addressed. For example, some of the content displayed in the ads could prove to be dangerous. Freeware apps like WebBars depend on third parties for the content, and they do not bother reviewing it. Thus, you might accidentally click a link that leads to a dangerous site, and it could eventually lead to a malware infection.
Before any of that happens, uninstall WebBars via Control Panel. If you downloaded this add-on in a software package, then you should definitely scan your PC with the SpyHunter free scanner. You need to find other unwanted applications that are bound to be hiding in your system. When you have all the unwanted programs and files rounded up, terminate them for good with a powerful antispyware tool of your choice.
Aside from acquiring a decent security application to keep your system protected 24/7, you should also employ safe web browsing habits because prevention is your best method to cope with most of the cyber threats.
How to Remove WebBars
Windows 10 & Windows 8.1
Press Win+R and the Run prompt will open.
Type Control panel and click OK.
Open Uninstall a program and remove the application.
Windows Vista & Windows 7
Open the Start menu and click Control Panel.
Go to Uninstall a program and remove WebBars.
Windows XP
Press the Start button and go to Control Panel.
Select Add or remove programs and uninstall the program.
In non-techie terms:
WebBars is a browser add-on that can slow down your browser and display a lot of annoying pop-ups. This may eventually result in a malware infection or personal data leak, so the sooner you get rid of this application, the better. Please refer to the instructions above for the manual WebBars removal. You may also delete the program with a legitimate antispyware tool. It is for the best to get one because you may have to erase a number of other potential threats.