Do you know what Web Timer is?
Truth be told, Web Timer is a unique browser extension for Chrome that lets you know how much time you spend on a given website. However, apart from this gimmicky function, it is also configured to display commercial advertisements and some of them might not be safe, to say the least. Our malware analysts suggest removing it as soon as the opportunity arises because it might put your computer at risk of becoming infected with additional malware. At the very least, this program will obstruct your online browsing which is obviously highly undesirable.
Any legitimate application is prone to promote the company that created it, but that does not hold true for Web Timer because it does not come from such a company. In fact, we do not know where this application comes from. Its website does not promote the company that made it and this program's files are not digitally signed by any entity. This leads us to believe that its origins are purposefully covered up to prevent the user base from knowing too much about it.
Its promotional website says that it is supported by Firefox, Opera, and Chrome web browser. However, our researchers have discovered that it, in reality, this adware is compatible with Chrome only and its dedicated promotional website always redirects to the Chrome Web Store's page for downloading Web Timer. Currently, it is distributed only on this platform. However, to reach a wider audience, it might be bundled with malicious installers featured on questionable freeware hosting websites. It might be injected into the browser without asking for permission or you might be given the opportunity to opt out. However, these peculiarities remain to be seen. Now, let us jump into the facts regarding its functionality.
At first glance, Web Timer looks as if it can provide a useful feature. We cannot argue that its official function does not work as intended. It features a dropdown window that shows how much time you have spent on a given number of websites and ranks them in a list of eight. It shows the combined time of all visits to one particular website, and it shows the combined time of all visits you have made in a day. It also displays the results in a pie chart which is neat, but it looks like it is something that kids would want to have — not the average user. We think that it is just a gimmick for convincing you to install it and play around with it for a while and forget about it.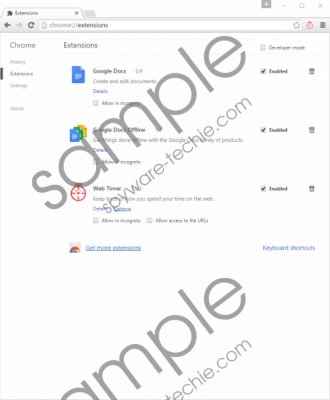 Web Timer screenshot
Scroll down for full removal instructions
Meanwhile, while you are exploring the limited possibilities of Web Timer, it starts displaying commercial advertisements. According to the Terms of Service document found on its website, "The Software is free to use and supported by various monetization mechanisms, including but not limited to search, banner, video, image, inline text, and transitional advertising, affiliate links, data aggregation and sales, work distribution, surveys, and sweepstakes." So the extent of its promotions is wide indeed and by using this application, you will be subjected to some degree of advertising supplied by it.
Some of the advertisements may be annoying and intrusive, but worst of all — some of them may be of malicious nature. Indeed, its developers cannot guarantee that all of the ads displayed by Web Timer are safe and given this program's shady origins it is no surprise that it attacks the kind of partners that want to advertise questionable websites and malware. Also, the Terms of Service document goes on to state that this program can "Read and change all your data on the websites you visit." What can it change is unknown because this document does not give any more details. Based on information from this document we conclude that Web Timer is highly unreliable, and you should get rid of it as soon as you can.
In closing, Web Timer seems that have pulled off something remarkable. Many people think that it is entirely safe and do not give much thought to what additional secret features it might have. However, since its ads come from unknown sources and so are bound to feature shady content, we suggest that you remove this application as soon as you can.
How to remove this app from Chrome
Open the web browser
Press Alt+F.
Select More tools.
Click Extensions and find Web Timer
Click the Remove button.
Alternative method
Press Windows+E keys.
Enter the file paths below into the File Explorer's address box.

%UserProfile%\Local Settings\Application Data\Google\Chrome\User Data\Default\Extensions\ggnjbdfgigejghknieofeahaknkjafim
%LOCALAPPDATA%\Google\Chrome\User Data\Default\Extensions\ggnjbdfgigejghknieofeahaknkjafim

Delete the contents of the folders
In non-techie terms:
At first glance Web Timer looks like a legitimate and reliable program, but the reality is very different. Our malware analysts have discovered that it is set to display commercial advertisements that are allegedly needed to keep the software free. However, this program's functions are not that useful and look more like a gimmick than anything else. The ads come from unknown third-party sources so they are not to be trusted and we recommend that you delete this adware.