Do you know what Web-starter.biz is?
Web-starter.biz is a search engine that will be set as your default homepage if you get infected by a browser hijacker. A browser hijacker is a type of computer threat that modifies your browser's settings without your permission with the intention to make a profit out of you. Unlike Trojans, ransomware, and other severe security threats, hijackers do not make at attempt at your financial stability directly. It usually redirects you to affiliated websites to get some traffic boost from you. Nevertheless, it does not mean you should take this infection lightly. This program is still a genuine computer security threat, and you have to remove Web-starter.biz immediately.
Browser hijackers can technically be grouped into two big categories: prominent browser hijackers and random browser hijackers. Perhaps the creators of this infection would not feel too good about our judgment, but we believe that Web-starter.biz falls into the "random" category. The reason is that there are a lot of other hijackers in the same family, and the program itself is not active yet. Therefore, in this description, we will focus on the possible distribution methods, and potential infection consequences. Just because this program is not available in the wild yet, it does not mean it cannot cause you some serious trouble in the future.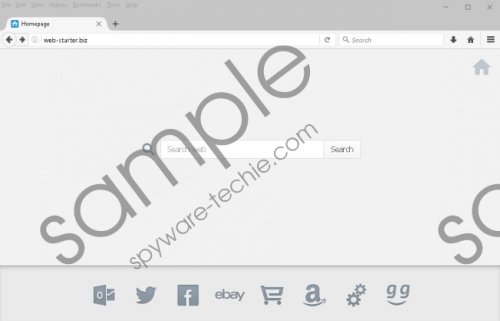 Web-starter.biz screenshot
Scroll down for full removal instructions
First, you have to consider the possible distribution routes that can be used by this hijacker. Every time you download a freeware application from a third-party source, you are at a risk of installing a potential security threat. Web-starter.biz will not have a direct distribution source. It means that the program will come bundled with freeware and other unwanted software. Our research team says that this hijacker comes with "bad downloaders," which essentially means that users download programs with third-party installers that have several applications within. It should be possible to avoid that if you downloaded programs from their official websites. However, even so, sometimes official installers may contain additional apps too! Thus, it is very important that you check each step carefully. More often than not, users have the chance to avoid installing these additional programs, but they simply miss it because they breeze through the installation as quick as possible.
As a result, Web-starter.biz and other unwanted applications get installed on your computer. Now, why is a browser hijacker such a dangerous threat? It is mostly associated with monitoring and exposure to corrupted content. While the hijacker itself cannot steal your personal information, the program can be easily used as a medium for malware distribution by cyber criminals. Why is that possible? Simple, Web-starter.biz and other programs from the same family are not responsible for the third-party content security. For instance, this browser hijacker may display a third-party link that leads to an unfamiliar website. The moment you click that link, you already are out of the hijacker's "jurisdiction." In other words, whatever might happen to you after landing on that unfamiliar site, Web-starter.biz is not responsible for that.
It is very unfortunate that quite often such hijackers are exploited for malware distribution by cyber criminals. What's more, it is rather complicated to delete the hijacker from your PC manually because it takes over the shortcut target settings. To put it simply, even if you were to reset your browser settings to default, Web-starter.biz would still remain on your browser because of the hijacked target line. You need to edit the Target line settings on your own, or you can invest in a licensed security application that can do the job for you.
Computer security experts always recommend using a legitimate antispyware tool to deal with such intruders because an automated software removal is more efficient. Also, you have to consider the fact there might be more unfamiliar and dangerous programs on-board. You have to take care of those programs because, in the long run, they could lead to some serious security issues as well.
You will find the manual removal instructions right below this description, but if you do not feel confident about deleting this infection manually, please refer to an automated antispyware tool. Choose a program that will help you protect your computer from various threats in the future, and please stay away from potentially harmful websites.
How to Delete Web-starter.biz
Change the Target Line
Right-click your browser's shortcut.
Choose Properties and click the Shortcut tab.
Find the Target line.
Remove "Web-starter.biz" from the Target line.
Click OK.
Internet Explorer
Press Alt+T and move to Internet options.
Click the Advanced tab and press Reset.
Mark Delete personal settings and click Reset.
Press Close.
Chrome
Press Alt+F and open Settings.
Scroll down and click Show advanced settings.
Click Reset settings at the bottom of the page.
Click Reset to confirm.
Firefox
Press Alt+H and go to Troubleshooting information.
At the top right of the new tab, click the Refresh Firefox.
Press Refresh Firefox again and click Finish.
In non-techie terms:
Web-starter.biz pretends to be a good search engine. In fact, this domain belongs to a browser hijacker that infiltrates your system without your permission. It is dangerous to keep this program on your computer because it could lead to serious malware infections. You will do yourself a favor if you remove Web-starter.biz right now. For any further questions, do not hesitate to leave us a comment. You have to do everything you can to get rid of this threat.