Do you know what Web Layers is?
Web Layers is a really untrustworthy program that might slither onto your computer. If this has already happened, you should carefully think whether you really want to keep this program installed on the system. In fact, it is not surprising at all if you say that you want to keep it because this application promises to help users compare shopping results, access various website ratings, and even find all the relevant information on the Internet. Even though this program promises to perform various beneficial activities, our researchers do not think that it is the best idea to keep Web Layers because it is a typical advertising-supported application. If you have ever encountered adware, you will definitely know that Web Layers is not going to do anything beneficial. It will simply show advertisements on your screen. You will, actually, see them no matter which browser you use.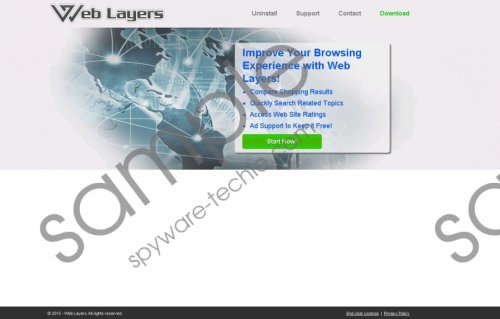 Web Layers screenshot
Scroll down for full removal instructions
Web Layers itself is published by SuperWeb LLC and it is definitely not a trustworthy program. In fact, we do not think that you should keep it installed because this program is completely useless. Our specialists have noticed that you might even infect your system with malicious software if you keep clicking on advertisements generated by Web Layers, so you should definitely not do that. It has to be emphasized that Web Layers not only displays commercial advertisements labeled as "Ads by Web Layers" or "Provided by Web Layers", but also collects information about your Internet habits, including the websites you visit, the time you spend surfing particular websites, the keywords you enter into the search box, and even the advertisements you click on while surfing the Internet. Actually, you should not even expect that Web Layers is going to act beneficially. It only makes these promises to lure you into downloading it.
This advertising-supported application is promoted on its official website weblayers.co. You can find some of the information about this program; however, it is impossible to download it from there. You will soon notice that yourself. Even though we cannot download this program from its official website, it does not mean that it cannot enter your system. Our specialists believe that this adware program usually slithers onto the system with the help of other untrustworthy programs. If you have not downloaded this adware yourself, there is a slight possibility that other untrustworthy programs have managed to enter your system. It is advisable to check the system and remove them all as soon as possible. Make sure that you do that as quickly as possible in order not to cause much more serious harm to your PC.
Luckily, you will be able to stop all those ads from appearing on your screen by simply removing Web Layers via Control Panel. Our instructions can help you to eliminate it from the system, but if you do not have time or willingness to do that yourself, you can remove undesirable programs automatically. In order to do that, make sure that you install SpyHunter or a similar security application and simply perform the system scan.
Remove Web Layers
Windows XP
Click the Start button and select Control Panel.
Click Add or Remove Programs.
Select the unwanted program.
Click Remove.
Windows 7 and Vista
Open the menu and click Control Panel.
Click Uninstall a program.
Select the suspicious software.
Click Uninstall again.
Windows 8
Tap the Windows key + R.
Enter control panel in the box and click OK.
Click Uninstall a program.
Right-click on the program you want to delete.
Click Uninstall.
In non-techie terms:
There are hundreds of advertising-supported applications published by SuperWeb LLC out there, so it is very important that you do everything that it takes to protect the system from malware. In fact, it will probably be enough to install a security tool on the system and keep it enabled.