Do you know what WeatherGrind is?
WeatherGrind advertises itself as a beneficial weather program. If you open its official website weathergrind.com, you will notice that it promises to enable users to keep track of the local weather forecast. In addition, it promises to display whether alerts when necessary in order to keep you informed. We understand those users who believe that WeatherGrind is trustworthy and decide to install it on their systems because the application might really look quite reliable at first. Our team of specialists has decided to check the application in order to find out whether it can be trusted 100%. Unfortunately, it has turned out that WeatherGrind is just a medium to display intrusive commercial advertisements for users. As this software might display advertisements and cause redirections to third-party web pages, we have put it into the category of advertising-supported applications (adware). It is not the best idea to keep adware installed because these applications are more dangerous than beneficial.
As you already know, WeatherGrind might display windows with various offers, and might also redirect to other web pages. First of all, specialists have noticed that it is closely associated with wunderground.com because it opens this web page after a user double-clicks on its main shortcut. Actually, the application itself does not have its own unique interface, which means that you will see the presence of wunderground.com and, probably, other web pages every time you open it. The web page itself is not dangerous; however, this shows that WeatherGrind is not as beneficial as it claims to be. Even though wunderground.com itself is not a harmful web page, you should be careful with all those offers you will see on your screen because they might even take you to hacked web pages promoting malware. We hope that it is clear for you that you risk infecting your system with malicious software by keeping WeatherGrind on your computer.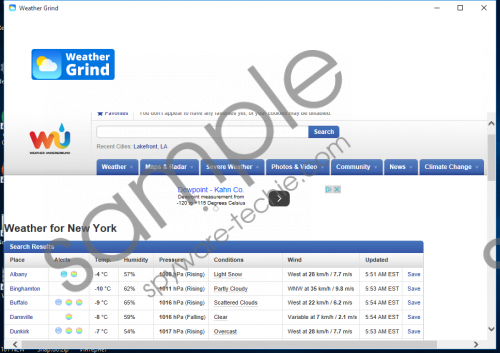 WeatherGrind screenshot
Scroll down for full removal instructions
According to our team of specialists, there is basically no doubt that this adware program is going to record information about users. In order to find out whether or not it is true, specialists have checked the Privacy Policy and found that WeatherGrind will record two types of information: information you actively choose to provide and passive information collected by servers or obtained from third parties. If it is unclear for you what this means, you should know that this adware is going to record your email address, name, phone number, birth date, and, probably, mobile phone number. On top of that, it might record the date and time of your visits to web pages, the websites you viewed, the time spent at each page, and similar information with the help of cookies. Users who do not want to reveal anything should go for the removal of WeatherGrind right now.
Some users download this adware program from its official website; however, the majority of people cannot explain how and when this software sneaked onto their computers. We want to reveal this secret. Specialists have noticed that this program usually travels in software bundles with potentially unwanted programs, browser hijackers, and other ad-supported programs. To find out whether these threats are installed too, scan your system with an automatic diagnostic scanner which can be easily downloaded from our website. In case it finds untrustworthy software on your PC, make sure you erase it from your system ASAP.
Advertising-supported applications are not very harmful infections but it is a bad decision to keep them installed because they might still redirect to untrustworthy places on the web. We are sure that users wish to prevent this from happening, so we have prepared the manual removal instructions for them. Feel free to use them to erase WeatherGrind or scan your system with an automatic malware remover, such as SpyHunter. We promise it will not overlook any threat.
Delete WeatherGrind
Windows XP
Click the Start button.
Select Control Panel.
Click Add or Remove Programs.
Select the unwanted program and click Remove.
Windows 7 and Vista
Open the Start menu and go to Control Panel.
Click Uninstall a program.
Right-click on WeatherGrind.
Uninstall it from the system.
Windows 8/8.1/10
Tap the Windows key + X simultaneously.
Select Control Panel and go to Uninstall a program.
Find and select the program you wish to remove.
Click Uninstall.
In non-techie terms:
As there are so many other advertising-supported applications on the web, you should be very careful and surf the web cautiously. First of all, specialists suggest that you do not download programs from third-party (e.g. torrent and files-sharing) web pages anymore. Secondly, it is highly advisable to install a security tool on the system. Only 100% trustworthy tools can protect your system, so make sure you install a reputable scanner.