Do you know what Weatherbuddy Ads is?
The research team working in our internal lab identifies advertisements linked to the potentially unwanted program Weatherbuddy as Weatherbuddy Ads. Although – as you will learn by reading this report – a different PUP (short for "potentially unwanted program") is actually responsible for displaying these ads, the program we are discussing in this report is responsible for letting it in. It was also found that the suspicious application might try to push users into paying money in return for ad-free services. Unfortunately, it appears that the PUP might continue showing ads even when the money is paid. If you are interested in deleting Weatherbuddy Ads, you can find more information, as well as the removal guide, in this report. If you are not familiar with this PUP, we suggest reading to learn what kinds of dangers you might face by getting involved with it.
Easy language learning system LLC (or ELLS LLC) has set up http://weatherbuddy.net to introduce users to Weatherbuddy. If you only look at the official information, you might believe that the program offers great services. Notably, there are two different versions of this suspicious weather forecaster, and that is something you should pay attention to right away. The only difference between these two versions – the Premium and the free one – is in regards to the advertisements. If you choose the free version, you accept to expose yourself to Weatherbuddy Ads, and that can be dangerous. If you choose the Premium version, you are asked to share credit card information to validate a monthly payment of 3 USD. First of all, you should not share credit card information without doing some research first because there are plenty of schemers who could try to trick you into paying for fake services. Secondly, are you sure that you want to pay money for a weather forecaster? There are plenty of reliable programs, mobile apps, and websites that can provide you with better services for free. Third, as mentioned previously, the suspicious Weatherbuddy Ads might keep appearing even if you set up a payment.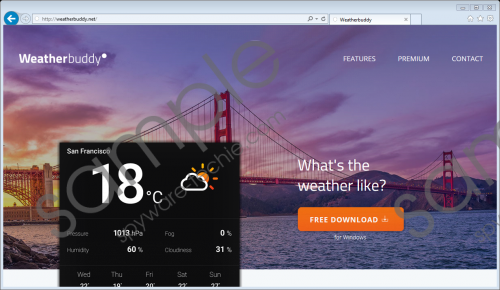 Weatherbuddy Ads screenshot
Scroll down for full removal instructions
We have already mentioned that Weatherbuddy Ads are represented by a different program. It is called "Inetstat," and it is a potentially unwanted program that we have reported already. This app might be installed silently, which, of course, is a bad sign. Without this program, Weatherbuddy cannot introduce you to ads. If ads are not shown, it is unlikely that you would agree to pay for the services monthly. When Inetstat is installed, it performs "click fraud" by imitating the user and automatically clicking on ads that are opened in new windows. You might not notice this activity at all, but the creator of the PUP will continue earning money. Overall, Weatherbuddy Ads can be malicious, and the PUP itself is not reliable, and so we suggest performing removal immediately.
If you follow the instructions below, you will have Weatherbuddy Ads removed in no time. Make sure you uninstall Weatherbuddy and Inestat together. If the latter is not found, we suggest running a malware scanner to check out if other advertising-related malware is active. Even if you have not encountered ads, scanning your PC is smart because the existence of one threat suggests that your operating system might be "susceptible" to malware. To prevent unreliable and malicious programs from attacking your PC in the future, employ trusted anti-malware software without further delay.
Delete Weatherbuddy Ads
Windows 10 & Windows 8
Tap Win+R keys to launch RUN.
Type control panel into the dialog box and click OK.
Move to Uninstall a program.
Right-click the undesirable application.
Select Uninstall.
Windows 7 & Windows Vista
Click the Windows logo on the Taskbar.
Open the Control Panel menu.
Navigate to the Uninstall a program menu.
Right-click the undesirable program.
Choose Uninstall.
Windows XP
Click the Start icon on the Taskbar.
Open the Control Panel menu.
Double-click the Add or Remove Programs icon.
Click the undesirable app and select Remove.
In non-techie terms:
If you are exposed to Weatherbuddy Ads, potentially unwanted programs or even malware might be active on your operating system. Hopefully, you can get rid of these ads by uninstalling undesirable apps using the instructions below. If this method does not work in your case, do not hesitate to use anti-malware software that can automatically erase all infections. Our research team can assist you with the removal of Weatherbuddy Ads, as well as answer any questions regarding the suspicious software. If you want to discuss anything in depth, start a conversation below.