Do you know what Weather Forecaster is?
Weather Forecaster is one of those applications that are not direct system security threats, but they can be extremely annoying. This browser extension works only on Chrome, and it looks like a useful tool that is there to give you the latest weather updates. But such applications often collect a lot of data that can be used for commercial advertising, and that can eventually lead to a number of security issues. Hence, if it wasn't your intention to add this extension to your browser, we would strongly recommend removing Weather Forecaster today.
Before we get down to the removal of this extension, perhaps we should look at how Weather Forecaster enters target systems. Please note that this application is not a sly infection, and so, it doesn't need to trick you into adding it to your browser. But why would anyone add this extension when they don't intend to? Well, this might happen when you access certain websites that support a lot of pop-ups. Certain pop-ups automatically ask you to add third-party extensions to your browser. In some cases, it doesn't allow you to close the pop-up window unless you click "Add."
Needless to say, that is a very obnoxious behavior, although it is not illegal. The point is that you still get the notification that asks you whether you want to add Weather Forecaster or not. And users often are too hasty in their decisions. So they fail to read the additional information that is provided in the pop-up. As a result, Weather Forecaster (and, possibly, a number of other applications) manages to enter their systems.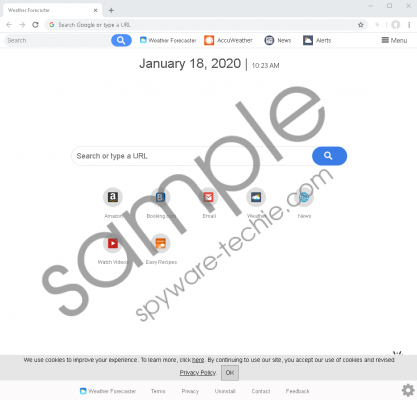 Weather Forecaster screenshot
Scroll down for full removal instructions
Of course, that is not the only method of distribution employed by this extension. It is also available at the Chrome Web Store, although it is rather unlikely that users who look for ways to remove Weather Forecaster added the extension through that route. Whichever it might be, the point is that this extension cannot enter your system unless you allow it to. Therefore, if you do not want such apps to appear on your browser, you have to be really careful about the websites you visit and the programs you download. Stay away from third-party file-sharing websites, and download programs from their official vendor sites.
Now, we have to ask whether Weather Forecaster is really a useful application. Why would you need a weather app on your browser, when there are already multiple applications offered by your operating system and even your mobile device? Also, doesn't Weather Forecaster seem a bit redundant?
Consider this, when Weather Forecaster gets added to your browser, the application changes your new tab and homepage settings. Technically, there is nothing suspicious or illegal about that because you DO give your permission for the extension to perform these changes. What's more, the default search engine settings also get modified, and all of your searches are redirected through query.weatherforecastertab.com. Needless to say, it is not an original search engine, and it uses a modified version of the Yahoo! Search.
What happens when you employ a modified search engine? It is very likely that it displays objective search results. Most of them will be modified to fit your likes and preferences, as the extension is bound to monitor your web activity, by logging the websites you visit and the search keywords you use. It's not something malicious because tracking cookies are employed by most of the websites. However, if the information collected by Weather Forecaster is exploited by malevolent third parties, it could prove to be potentially dangerous.
Therefore, the sooner you remove Weather Forecaster from your computer, the better. While it is not hard to delete Weather Forecaster from your browser, you should also run a full system scan with a reliable security tool. Who knows how many other unwanted applications you have running already.
When you make sure that your system is clean again, please consider investing in a legitimate antispyware tool that will help you safeguard your PC against other unwanted threats. But don't forget that your own behavior online is very important, too. If you allow dangerous programs to enter your system willingly, even the most state-of-the-art antispyware tool will not be able to help you with that.
How to Remove Weather Forecaster
Open the Chrome browser.
Press Alt+F and click More tools.
Open Extensions and remove Weather Forecaster.
Restart your browser.
In non-techie terms:
Weather Forecaster is not a malicious computer infection, but it can prove to be an annoying nuisance especially if it continues to track your online activity. You might be spammed with commercial content that could host dangerous outgoing links. Protect yourself and your computer from potential hacking attempts by removing all the unwanted software today. Start with Weather Forecaster, and then run a full system scan with a licensed antispyware tool.