Do you know what Watch Movies Live is?
The description of Watch Movies Live might offer access to online streaming sites as well as sites that can provide you with news or weather information from your new tab page. However, did you know that this extension was classified as a potentially unwanted program or that it might gather both personal and on-personal information while being used? Some users may consider such behavior as a violation of their privacy. Further, in this article, we explain what kind of data might be gathered as well as other details about it. For users who decide to get rid of it, we can offer our removal guide placed at the end of this article that shows how to delete Watch Movies Live manually. If you need more guidance or have questions about this potenatially unwanted program, you should not hesitate to use our comments section available below.
Watch Movies Live was created for Google Chrome users, and like other extensions that work on this browser, it is available on the Chrome Web Store page. Nonetheless, this may not be the only way to come across this application. Potentially unwanted programs are often spread with bundled software installers that can be distributed through unreliable file-sharing websites. Also, such tools might be offered on unreliable pop-ups, banners, or and other advertisements. Thus, paying attention to the sources that offer you to download applications as well as finding more information about chosen tools before installing them are two main things that you should do if you want to avoid potentially unwanted programs and software alike. Also, our researchers recommend having a reputable security tool that could help you keep your computer safe.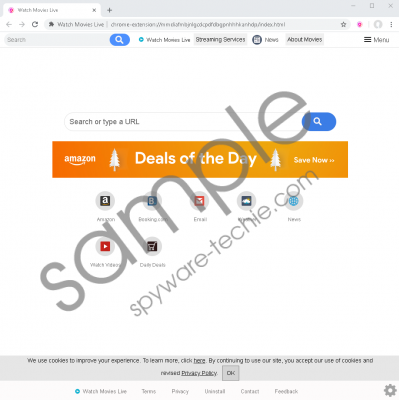 Watch Movies Live screenshot
Scroll down for full removal instructions
If you add Watch Movies Live, it might change your Google Chrome's new tab page and place a toolbar right below your browser's address bar. Both of these changes might encourage users to surf the Internet with a modified Yahoo search engine since the new tab page should be replaced with such a search engine, and the toolbar ought to have a search box that would also redirect to a modified version of search.yahoo.com. What is essential to know is that modified search results could differ from what you would receive while using the original Yahoo search engine, for instance, the modified version could show advertisements from the extension's third-party partners. Since there is not knowing where such content might come from, we advise being careful with it if you come across it.
Moreover, you should know that while you use Watch Movies Live, it might gather information about you. According to the application's Privacy Policy, the collected data could be "Non-Personal Information and Personal Information." It is explained that personal information could be data provided by you, such as "your first and last name, email address, physical address." As for non-personal data, it could be your search activity, IP address, browser's type, geographical location, and so on. As said earlier, the Privacy Policy also says that the collected information could be shared with third parties and might be used for unspecified purposes. Our researchers say that one of the purposes could be to show you targeted advertising content.
Naturally, if you do not like the extension's behavior and you do not trust it, you could erase Watch Movies Live. If you want, you can get rid of it by following the removal guide placed below that shows how to remove this application from your browser's extensions menu. The other way to eliminate this potentially unwanted program is to get a reliable antimalware tool that would delete Watch Movies Live for you.
Erase Watch Movies Live
Open Google Chrome.
Paste this link: chrome://extensions into the browser's address bar.
Press Enter and search for Watch Movies Live.
Tap Remove and exit Extensions menu.
Restart your browser.
In non-techie terms:
Watch Movies Live is a browser extension that might change your new tab page, provide you with various links to other sites, and collect information related to your browsing. What is vital to know is that the data it may gather could be both anonymous and personal. It is explained in the application's Privacy Policy. From which we have also learned that the extension's developers can share the gathered information with third parties and that they cannot guarantee the collected data's safety. Also, you should know that this potentially unwanted program might change your new tab page with a particular search engine. Researchers say that while using it, you could be redirected to modified Yahoo search results, which could contain injected third-party ads. If you do notice such content, we advise being careful with it. On the other hand, if you do not want to use a modified search engine, and you do not like that the extension could gather data related to your browsing, you could erase Watch Movies Live with the removal guide placed above or a reputable antimalware tool.