Do you know what Warning Call (844) 763-5838 is?
The moment you see a pop-up with the words Warning Call (844) 763-5838 appear on your screen, you need to focus on the removal of malware. Although the pop-up itself cannot download other malicious infections, hijack your personal accounts, or do other damage without your notice, it is highly misleading, and it was created to scam you. Computer users usually encounter pop-ups when browsing the web or when adware (advertising-supported software) active on their systems starts injecting ads. However, this particular pop-up is launched by an executable file (em.exe) that was designed by cyber crooks. This pop-up might come up randomly, and it does not even need connection to the web for that. Have you seen this pop-up on certain websites? It is possible as well; however, if you keep seeing this pop-up on your screen, you need to delete "Warning Call (844) 763-5838" malware, and we are here to help you with this.
It is most likely that you will encounter the "Warning Call (844) 763-5838" pop-up after you download Secure PC Cleaner from securepccleaner.com. The scanner of this program is free of charge, and it promises to detect all registry errors. Well, you should not even think about installing this program, and not just because it can download the malicious em.exe file. Once installed, this potentially unwanted program will detect bogus errors to push you into purchasing the licensed remover, which, at the moment, cost at least $39.95. Needless to say, you do not want to waste money on a tool that supposedly removes non-existent errors. Unsurprisingly, the "Warning Call (844) 763-5838" pop-up is just as unreliable, and the message that it carries is completely misleading. According to this message, your computer is at risk, and you need to call (844) 763-5838 to receive help ("premium support"). The reality is that calling this number is about the worst thing you could do.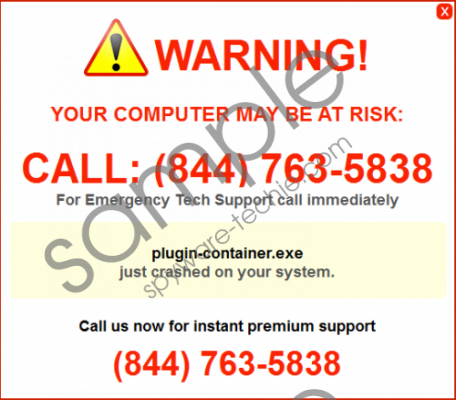 Warning Call (844) 763-5838 screenshot
Scroll down for full removal instructions
The developers of the "Warning Call (844) 763-5838" scam might ask you to identify yourself when you call the number. If you disclose your email address, home address, or credit card number, your virtual identity could be stolen to perform illicit actions (e.g., illicit money transfers from your debit card). Additionally, you could be convinced that your operating system is experiencing issues that can be fixed with the help of certain software. Considering that this pop-up can be launched along with Secure PC Cleaner, it would not be surprising if schemers were trying to convince you to purchase the licensed version of this tool. Now, we have already established that this is not something you should do. Hopefully, you have not called this suspicious number, and you have not put yourself at risk. If you encounter suspicious pop-ups just like "Warning Call (844) 763-5838" in the future, the first thing you should do is cross-check the number to see if anyone has reported it as being associated with criminal activity. In general, you should not interact with unfamiliar numbers or suspicious pop-ups at all.
The location of the malicious EM.exe file that is responsible for the "Warning Call (844) 763-5838" pop-up has been uncovered during our analysis. This file was found in the %AppData%\Event Monitor directory, and you can easily access it to delete the malicious file. If you do not know how to do it, please refer to the guide below. If you are unable to remove "Warning Call (844) 763-5838" pop-up using this guide, you should immediately start a discussion below, and we will assist you as soon as possible. You should also consider using automated malware removal software, especially if other threats have slithered in along with this malware. You should be particularly interested in this software if you need help keeping malware away from your PC in the future.
Delete "Warning Call (844) 763-5838"
Simultaneously tap Win+E to open Explorer.
Enter %APPDATA% into the address bar and Delete the Event Monitor folder.
Simultaneously tap Win+R to launch RUN.
Move to HKEY_CURRENT_USER\SOFTWARE\Wow6432Node\ (or HKEY_LOCAL_MACHINE\SOFTWARE\Wow6432Node\).
Delete the key called Event Monitor.
Move to HKEY_CURRENT_USER\SOFTWARE\ (or HKEY_LOCAL_MACHINE\SOFTWARE\).
Repeat step 5.
Restart your PC and run a full system scan.
In non-techie terms:
There is no doubt that you need to remove "Warning Call (844) 763-5838" messages from your screen, and you can do so by removing the em.exe file. This file usually comes packaged with unreliable software, and you should take care of its removal as well. If you need help erasing this software, check out our database of removal guides, or trust authentic anti-malware software to eliminate all threats. Although it is fairly easy to erase the malicious file and get rid of the software associated with it, it is much more difficult to reverse the damage that could be done when you interact with cyber criminals. If you have already called the fake helpline, think about what information you have shared, and do whatever it takes to protect it. For example, if you have disclosed credit card information, call your bank, and they will help you out.