Do you know what WannabeHappy Ransomware is?
The good news about WannabeHappy Ransomware is that it looks like the malicious application is decryptable as our researchers report there is a free decryption tool created by volunteer computer security specialists. If you infect the system with this vicious malware, you may find yourself in need of such a tool since the threat is programmed to encipher files found on the infected device, for example, your photographs, archives, videos, text or other documents, and so on. WannabeHappy Ransomware is a tool created by cyber criminals who seek to extort money from their victims; thus, the malicious applications receivers may expect a ransom note. However, we advise not to put up with any demands and not to trust the malware's developers because there is a possibility they might not live up to their end of the deal. Further, in the text, we will discuss the harmful program and other details related to it. Plus, at the end of the article, we will place a removal guide you might find useful if you choose to eliminate the threat.
WannabeHappy Ransomware could enter the system through malicious email attachments or unreliable RDP connections. It starts the encryption process by displaying a message with an encryption key that is going to be used to encipher the user's data. During this process, the malware should also generate a unique decryption key, but naturally, it does not get revealed to the victim, or there would be no point in asking for ransom. Usually, such infections are named after the extension they apply at the end of enciphered files' titles, although not in this case. The threat applies the .encrypted extension to all damaged data, so its title comes from the way its hackers signed the ransom note ("Thank you for using wannabehappy").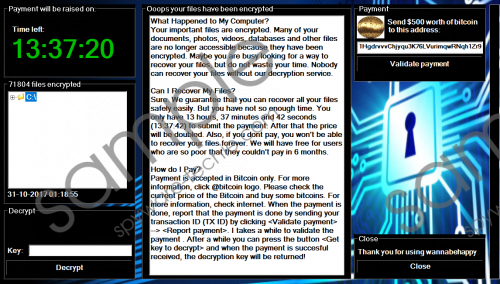 WannabeHappy Ransomware screenshot
Scroll down for full removal instructions
The malicious application's ransom note is provided not in a text document, but on the WannabeHappy Ransomware's window. At first, the message explains what happened to your files and warns not to waste any time by looking for other ways to recover enciphered data than instructed by the note. To convince the user pay the ransom, the hackers answer a question "Can I Recover My Files?" with "Sure. We guarantee that you can recover all your files safely easily." Then they explain the user should pay a ransom of $500 in approximately thirteen hours, or the price will become $1000. The last sentence says the hackers cannot verify the payment right away so the user should wait a bit. The truth is you may have to wait forever since in reality there are no guarantees they will send you the decryption key. Consequently, our advice to our readers would be to look for the decryption tool created by computer security specialists on the Internet or recover enciphered data from backup copies.
Provided you decide not to pay the ransom, we advise you not to wait any longer and eliminate the malicious application. One way to get rid of WannabeHappy Ransomware is to delete all of its data manually on by one. No need to worry if you have no idea what these files are or where they could be located as a bit below this paragraph you will find our removal guide. Its steps will suggest possible locations and data that should be erased. Probably, an easier way to deal with the malware would be to acquire a reputable antimalware tool and use its scanning feature. Such a tool might also be a good investment into the future since it could guard your system against threats you may yet encounter.
Get rid of WannabeHappy Ransomware
Press Windows Key+E.
Navigate to the listed folders:
%USERPROFILE%\Desktop
%USERPROFILE%\Downloads
%TEMP%
Look for new and recently downloaded files or any other suspicious data that could belong to the malware.
Right-click the infection's launcher and press Delete.
Close File Explorer.
Open Registry Editor (Windows Key+R, type regedit, click OK).
Go to this specific directories:
HKCU\SOFTWARE
HKCU\SOFTWARE\WOW6432Node
Search for keys named as WannabeHappy.
Right-click these keys and press Delete.
Close Registry Editor.
Empty Recycle bin.
Restart the device.
In non-techie terms:
WannabeHappy Ransomware is a threat that can ruin your important files. Luckily, there might be a free decryption tool on the Internet you could use to decipher such data. As for the decryption tool from the malware's developers, it is quite expensive, and there are no reassurances it will be delivered even if you pay the ransom. Therefore, we advise against it and recommend erasing the infection. If you decide to follow our advice, you could try to delete WannabeHappy Ransomware manually with the help of our removal guide located a bit above this text or with the help of a reputable antimalware tool you could install. If you have any questions about the deletion part or the malicious application itself, do not hesitate to ask us via social media or the comments section located at the end of this page.