Do you know what Wallet Protector Extension is?
Wallet Protector Extension is a Mozilla Firefox add-on users doing shopping online find quite appealing because it promises to help them save money. Judging from the program's description, it will help you save some cash by automatically showing you the best offers available at your favorite online stores. Some users find this feature quite beneficial, whereas others do not want to see the commercial content. If you belong to the latter group of people, you should remove Wallet Protector Extension without further consideration because it is the only way to stop activities it performs on users' computers. You should not leave it on your computer if it has affected your web browser without your knowledge too. If you still find it hard to decide what to do with this piece of software, you should, in our opinion, go to get rid of it because it is not perfect software for sure. Our experienced specialists have even put it under the potentially unwanted software category. Without a doubt, there are several reasons they have decided to call it a potentially unwanted program. Read the next paragraph to find more.
Wallet Protector Extension is not malicious software, we can assure you, but it still has drawbacks, so think twice before letting it stay installed on your computer. If you do not disable this Mozilla Firefox add-on and continue using this browser as your default, you might see coupons, best deals, and various offers when you enter online stores. They are usually shown on users' screens automatically, which is why some of people find them quite irritating. If you are one of these users, you should definitely not keep Wallet Protector Extension installed on your system. You should remove it today also if you do not want it to collect information about you. Yes, according to our researchers, it might collect some information about users. This piece of software is a Mozilla Firefox extension, so it could not access sensitive information. Specialists say that it should only collect non-personally identifiable details focusing on users' activities on the web. For example, it might record URLs of websites you visit, advertisements you find interesting, links you click, etc. Additionally, it might be able to access some details about your computer. You cannot change anything about it, but you can disable this add-on at any time and thus stop all activities it performs. It is up to you what to do with it, but if you ask our opinion, we would not keep a potentially unwanted program installed no matter that it looks completely harmless if we were you.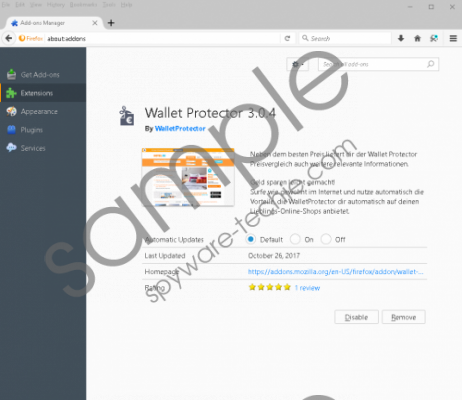 Wallet Protector Extension screenshot
Scroll down for full removal instructions
Potentially unwanted programs usually appear on users' computers because they install them on their PCs voluntarily. In the case of Wallet Protector Extension, the chances are high that you have installed it directly from https://addons.mozilla.org/en-US/firefox/addon/wallet-protector/. Of course, we do not say that all users install it willingly on their PCs. If you do not know why this add-on has affected your Mozilla Firefox browser too, it must have entered your computer together with third-party software. To be frank, potentially unwanted programs are often spread in software bundles. Users usually get these bundles from dubious pages, so our piece of advice for you would be not to download software from untrustworthy websites. You should also install a security application on your computer so that threats you overlook could not slither onto your computer and cause problems to you.
If you have found Wallet Protector Extension installed on your Mozilla Firefox browser, you should delete it right away because it is a potentially unwanted program. It is not a harmful threat for sure, but it is still not a piece of software you should keep active. Luckily, it can be removed through the add-ons manager with the click of a button. If this tells you almost nothing, you should follow our removal guide – you will find it right below this article.
How to delete Wallet Protector Extension
Mozilla Firefox
Press Ctrl+Shift+A when you open Mozilla Firefox.
Select Wallet Protector Extension.
Click Remove.
In non-techie terms:
Wallet Protector Extension promises to help users save some money at online stores, but, unfortunately, we cannot confirm that it is a piece of software that can be trusted even though it is advertised as a beneficial shopping assistant. It might provide users with the sponsored content automatically. Additionally, it might track them and record certain details about them. Finally, it might be spread bundled with third-party applications, which is not a feature of a trustworthy program.