Do you know what Walermis is?
Walermis is advertised as a tool that will greatly improve your browsing experience, such as searching the web, to comparing online deals to find the best prices. But there is a slight problem, however, because Walermis is actually an adware application that you might want to remove. The reason is that it displays irritating advertisements, which are of no use to you unless you installed the application with the intention of getting commercial offers. If you do not want to have this application, you should uninstall it using the instructions provided at the end of this article.
So let us begin analyzing Walermis by starting off with its origins and methods of distribution. This application belongs to the so-called SuperWeb family, a line of adware applications that have been developed by SuperWeb LLC, which is owned by the Sambreel/Yontoo group. This is an advertising company located in Carlsbad, California. This company is responsible for hampering web browsing with the help of adware applications, such as Computer Pal, Computer Chair, Dig Deep, Fresh Outlook, and so on, for a number of years now.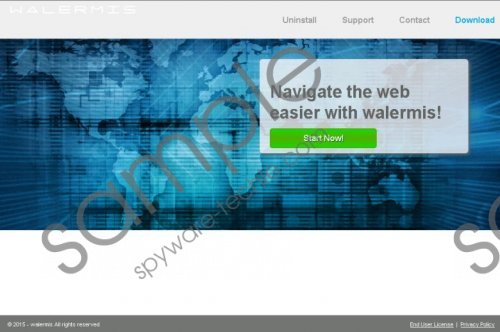 Walermis screenshot
Scroll down for full removal instructions
We know Walermis to be distributed using freeware sharing websites with the help of software bundles. The way this works is rather interesting. The developers make arrangements for their adware to be included in a software bundle. The twist here is that the main application will carry Walermis as a clandestine addition. You may not notice additional software if you do not opt for custom/advanced installation settings. On top of that the installer may be made purposefully misleading to trick you into installing adware. Like its counterparts, this particular program has a website at Walermis.org, which serves as a promotional website and as a place to host the End User License Agreement and the Privacy Policy.
Speaking of which, let us talk about what the End User License Agreement and the Privacy Policy have to say. According to the license agreement, Walermis will display various types of advertisements that include but are not limited to search-related ads, coupons, banners, video ads, and in-text ads. The agreement also states that the company is not responsible for third-party advertisements, claims, promotions, surveys, computer software, websites, and so on. this seems quite convenient It is possible that Walermis will display unreliable ads that may promote fictitious Java or Flash updates that might actually be potentially unwanted programs, adware, browser hijackers, and so on.
Obviously, Walermis is bad news. As you can see, the application brings no real improvements whatsoever to web browsing. Only the developers and, most likely, the advertisers profit from this application, because some users get tempted and click the ads. Most ads are legitimate, but some might not be, so we think there is no point in keeping this program, since the ads are irritating regardless of whether they are good or bad. Therefore, we invite you to remove Walermis using the removal guide below.
Remove Walermis
Windows 8 and 8.1
Open the Start Screen.
Type Uninstall in the search box and then go to Settings.
In the search results, go to Uninstall a program.
Find Walermis, right-click on it, and click Uninstall.
Windows 7 and Vista
Click Start.
Select Control Panel.
Click Uninstall a program.
Find Walermis and right-click on it.
Click Uninstall.
Windows XP
Open the Start menu.
Click Control Panel.
Select Add or Remove Programs.
Find Walermis and click Remove.
Reset your browser's settings
Mozilla Firefox
Press Alt+H and select Troubleshooting Information.
Click Reset Firefox.
In the dialog box, click Reset Firefox again and click Finish.
Microsoft Internet Explorer
Press Alt+T and select Internet Options.
Open the Advanced tab and click Reset.
Mark the Checkbox, click Reset and click Close.
Google Chrome
Press Alt+F and choose Settings.
Select Show advanced settings.
Click Reset settings and click Reset again.
In non-techie term:
Walermis is an adware-type application that you might want to remove, because the advertisements are annoying and will constantly get in your way. On top of that there is a slight chance that your PC might become infected with more malicious software, since not all advertisers promote for the right reasons. After you remove this program, we suggest scanning your computer for malicious software with an antimalware tool.