Do you know what Volaro is?
Volaro, also known as Volaro Technologies, is a software developer that does not specify what production they create. It is clear that Volaro is associated with the browser add-on named Vonteer Safe ads, which is compatible with Internet Explore and Mozilla Firefox. It has been discovered that the browser add-on is distributed mainly in the Middle East, and that the program arrives at the computer alongside malware programs such as Trojan horses. It is highly advisable to pay close attention to every installation process, but sometimes this is not sufficient because some malicious programs may be installed without your participation.
The program Vonteer Safe ads is a browser add-on that blocks pop-ups and other advertisements so that you can freely browse the Internet. However, soon after installing this browser add-on, you are provided with Volaro pop-ups labeled "Ads by Volaro." Volaro Technologies provides you with web banners, pop-ups, and other types of advertisements on a variety of websites, including famous online shops and news websites such amazon.com and msn.com. Some of the ads may be very obtrusive, so do not wait any longer if you want to get rid of Volaro ads. Remove the program that causes the display of the annoying ads and shield your system against various malicious programs.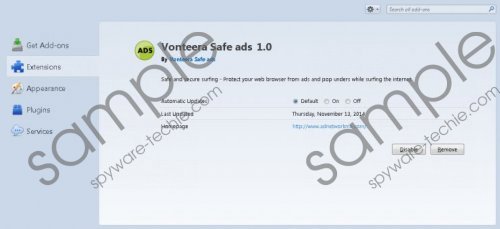 Volaro screenshot
Scroll down for full removal instructions
You should not delay the removal of the browser add-on because Volaro Technologies monitors your online behavior. They are interested in your browsing behavior, so they record information concerning your interaction with the advertisements and offers delivered to you. In addition to this non-personally identifiable information, Volaro records your clicks, browser type, search terms, IP address, approximate geographical location, etc. This information can be used for a variety of purposes, so, if you do not want to be associated with the activities of Volaro Technologies, put an end to the unwanted pop-ups by removing the Vonteer Safe ads browser add-on.
While analyzing the browser add-on, we have observed that the uninstaller for the program is not working. However, it is still possible to remove the program, but is necessary to delete certain folders and uninstall an extension in Mozilla Firefox. Below you will find our instructions on how to get rid of Volaro ads, but our team recommends using a spyware and malware detection program so that you can be protected against Trojan horses, rogue anti-virus programs, browser hijackers, adware programs, and many other threats.
How to get rid of Volaro pop-ups
Internet Explorer
Open the Program Files directory.
Remove the folders Volaro and VonteeraAddon.
Mozilla Firefox
Press Ctrl+Shift+A and click Extensions.
Remove the Vonteer Safe ads extension and remove the unwanted extension.
In non-techie terms:
If you want to have Volaro pop-ups removed from your computer for you, you should implement a reputable anti-malware program. Below you will find our step-by-step instructions that will help you install the recommended security tool. Your operating system can be infected at any time, so do not wait any longer.