Do you know what Vista Protection 2014 is?
Vista Protection 2014 is a fake security program that imitates characteristics typical of legitimate anti-virus programs. Vista Protection 2014 is installed on the computer without the user's interference, which usually occurs when the user is browsing insecure websites, including file-exchange websites and adult-oriented websites. It is crucial to remove Vista Protection 2014 from the computer because this program cannot offer you any protection against malware and spyware even though it may seem to be quite the opposite.
Once installed, Vista Protection 2014 launches its fake scanner which shows non-existent detections. According to the scanner, your computer is infected, and you can eliminate those infections from the computer by activating the full version of the program. As you may know, full versions are usually available for a particular sum of money, and Vista Protection 2014 is no exception. Vista Protection 2014 is not capable of detecting and removing computer infections; all the processes are simulated to gain your trust and get your money, so do not hesitate to remove Vista Protection 2014 from the computer.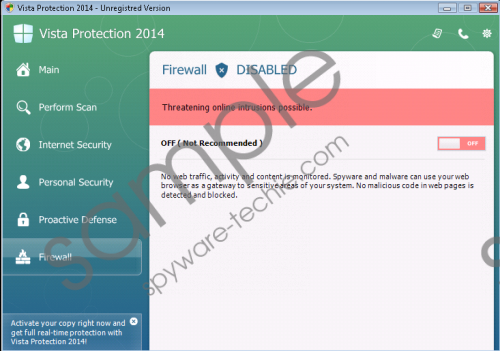 Vista Protection 2014 screenshot
Scroll down for full removal instructions
It is crucial to ignore various pop-ups displayed by Vista Protection 2014 because they are aimed at deceiving you, as well as the fake system scanner. If you really want to be secure on the Internet, you should find a legitimate anti-malware program that can fight off malware and spyware threats with ease.
Vista Protection 2014 is a piece of malware that belongs to a group of malicious programs called FakeRean, also known as Braviax. FakeRean programs are capable of altering their names according to the type of the operating system infected. If you had Windows XP, instead of Vista Protection 2014 you would find XP Protection 2014. The same techniques were used last year with Vista Defender 2013, Win 7 Defender 2013, Win 8 Security System, XP Home Security 2012, and other variants.
Vista Protection 2014 blocks various executable files, including Internet browsers, and, when you attempt to launch some program, the infection shows a fake warning saying that the program is infected.
Moreover, it is possible to active the program by providing fake information; however, the program needs to be removed from the computer because the so-called trial version may be renewed in the future.
We recommend that you implement SpyHunter because this program can eliminate Vista Protection 2014 in no time and safeguard the system against multiple threats, such as Trojan horses, rogue anti-virus programs, browser hijackers, and many other dangerous programs. In order to install our recommended program, use the following instructions.
Remove Vista Protection 2014 From Windows 8

Press the Windows key to access the Start screen.
Move the mouse pointer to the lower-right corner and click Settings.
Select Change PC Settings.
Click General.
Under Advanced Start, click Restart Now.
Click Troubleshooting.
Select Advanced Options and click Startup Settings.
Click the Restart button.
Wait for the BIOS screen to loads.
Press F5 to enable Safe Mode with Networking.
Download and install our recommend program that is available at http://www.spyware-techie.com/download-sph and remove the infection.
In non-techie terms:
Vista Protection 2014 is a program that imitates system scans and other operations typical of anti-virus programs. Do not trust Vista Protection 2014 because it is spread over the Internet to deceive you and obtain your money.