Do you know what Vista Defender 2013 is?
Vista Defender 2013 is a computer threat classified as rogue antispyware. It is another variant of XP Defender 2013 and Win 7 Defender 2013 that infects computers running in Windows Vista. A similar group of rogues was very prominent around half a year ago, with more than 30 different variants of the same infection (including Vista Internet Security 2012, Vista Total Security and others).
Online malware scanners, browser hijackers and social engineering are just few of the distribution methods utilized by Vista Defender 2013. Once this rogue is in, it will perform a fake system scan and then bombard you with fake security notifications, trying to persuade you to buy the full version of Vista Defender 2013. According to the rogue, only the full version of the program is able to remove IRC-Worm.DOS.Septic, P2P-Worm.Win32.Duload.a and other viruses that Vista Defender 2013 supposedly "finds" on your computer.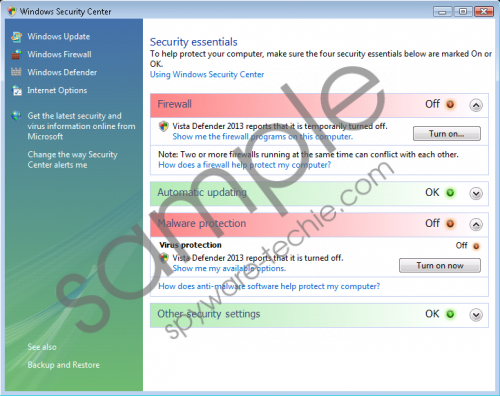 Vista Defender 2013 screenshot
Scroll down for full removal instructions
However, you will notice that the longer Vista Defender 2013 stays in your system, the more damage it causes, as this rogue has an ability to block executable programs. Since Internet browser are also executable programs, Vista Defender 2013 can block them too, citing some unknown infection as the cause of the block. You should pay no heed to these claims and keep your money to yourself even if you see the following messages appear:
Security breach!
Beware! Spyware infection was found. Your system security is at risk. Private information may get stolen, and your PC activity may get monitored. Click for an anti-spyware scan

System hijack!
System security threat was detected. Viruses and/or spyware may be damaging your system now. Prevent infection and data loss or stealing by running a free security scan
Ignore these fake security messages and register Vista Defender 2013 with this activation key:
3425-814615-3990
Although registering the rogue does not remove it, you win some time before Vista Defender 2013 comes back full force. If you cannot remove Vista Defender 2013 manually, you need to acquire a computer safeguard program that will help you to get rid of Vista Defender 2013 automatically. Do all it takes to protect your computer and your bank account from Vista Defender 2013.
In non-techie terms:

Vista Defender 2013 is a fake antivirus program that enters your computer in order to find out your financial information. You must erase Vista Defender 2013 as soon as possible to prevent sensitive data leak and ultimate system destruction.
Aliases: Vista Defender.