Do you know what VideozSearchs is?
VideozSearchs is not a search tool that was created to help you search for videos. In fact, the name of this potentially unwanted program makes no sense, and that might be because its creator has already used a bunch of other names for analogous PUPs. A few of them include SearchAholic, SearchSeries, Cranchit, BoosterSearch, and SearchWizard. In the past, they were clearly identified as webcoapps extensions. More recently, the name of the creator has been hidden, but it does not take much to figure out that all of these extensions are clones of one another. That is because they look and work the same. We are sure that you can use the same tips to delete all PUPs from this family, but note that we created a guide that shows how to remove VideozSearchs after researching this extension specifically. If you want to learn all about it, please continue reading.
The suspicious VideozSearchs, just like all of its clones, is officially introduced via the Chrome Web Store: chrome.google.com/webstore/detail/videozsearchs/ojphencjphnbilillgeldcldpkdhndjb. If this is where you downloaded the extension from, it is possible that you do not need to worry about other threats. However, if you downloaded the extension using a bundled downloader or an unfamiliar installer, you have to consider the possibility that other PUPs or even malicious threats slithered into your system without your permission. Without a doubt, that is something you want to check, and we advise using a reliable malware scanner for that. If the tool identifies serious threats, delete them first, but do not forget about VideozSearchs. Although it is classified as a potentially unwanted program – which does not sound very menacing – there are legitimate reasons why removing it is recommended.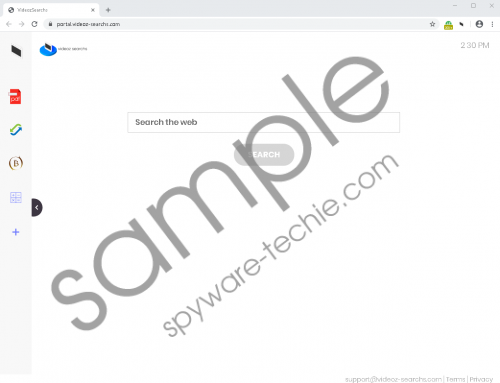 VideozSearchs screenshot
Scroll down for full removal instructions
After the installation of VideozSearchs, your Google Chrome browser is meant to start working differently. The default search provider should be changed to feed.videoz-searchs.com, and the New Tab page should represent portal.videoz-searchs.com. Note that if you enter keywords into the search dialog provided via the New Tab page, you will see your searches redirected via feed.videoz-searchs.com. The New Tab page is also meant to represent a free file converter, a currency converter, and also a calculator, which some users are likely to find very useful. Even if these integrated gadgets serve you well, you do not want to use the search tool because it cannot serve you reliably. According to our research team, all searches are redirected to Yahoo Search, and the results shown include modified results. We do not know how safe it is to interact with such results, and so we do not recommend it.
It is not difficult to remove VideozSearchs from Google Chrome, and we are sure that you can handle the task all on your own. Of course, we recommend following the manual removal steps below only if there are no other threats that you need to eliminate. If a malware scanner detects other threats, make sure that you delete every single one of them. If you can find the guides you need on our website, follow them carefully. If you cannot find guides, or if you want to take a smart shortcut, we advise implementing the assistance of trusted anti-malware software. While it can delete the PUP automatically, it is most important that it can secure your operating system against malware and other PUPs in the future.
Remove VideozSearchs from Google Chrome
Open the browser and then tap Alt+F keys together.
Expand the More tools menu and then click Extensions.
Click the Remove button next to the unwanted extension.
Tap Ctrl+Shift+Delete keys together and open the Advanced menu.
Choose a time range, select boxes, and click Clear data.
In non-techie terms:
If you want to browse the web more efficiently, do not expect VideozSearchs to help you. Although it might be introduced to you as an amazing search tool, in reality, it is just another potentially unwanted program that was created to advertise the links of unknown third parties. Once the PUP is installed, it changes the default search provider and the New Tab page, and if you use it to search the web, you are bound to be redirected to Yahoo Search. The results shown are modified to include sponsored content, which could also be based on your own browsing history and other information gathered by silent web cookies. This is why the guide below shows how to remove VideozSearchs AND clear browsing data. Of course, if you know that other threats exist, perhaps you should switch from manual removal to automated removal that reliable anti-malware software can provide you with.