Do you know what videoZone Search is?
Finding videoZone Search browser extension in your Google Chrome browser may mean that you are a movie fan but may also mean that have no idea about the potential threats this tool may present to you. In fact, our researchers say that this potentially unwanted program (PUP) comes from a growing family of worthless browser hijackers, including musicJunkie Search and filmsJunkie Search, to mention a few, which are also promoted on the same webpage that is supposed to be the official source for this PUP. The strange thing is that you cannot actually find this extension there; at least, definitely, not under this name. These are all similar extensions that you should not have on your system if you care about your system security. You could be presented with unreliable third-party advertisements and corrupt links if you keep this tool in your browser. This is why we advise you to remove videoZone Search from your PC. In order to understand our verdict on this PUP, please read our full report.
As we have mentioned, there is a promotional page, theappjunkies.com, which is supposed to promote this PUP; however, if you visit it, you will see that there are actually four other tools available there, which could be identical or similar ones. You can, of course, install this extension via the Chrome web store, chrome.google.com/webstore/detail/videozone-search/kggkiciiaanamdgpabbaoeolimfnbock. It seems that over 34 thousand people have installed it so far but there is only one single review left there saying "good." Well, this does not convince us and, hopefully, will not be enough for other security-minded users, either. When you install this PUP, you should be aware that you are redirected to a new tab where you are made believe that you need to click the Continue button to finish. This is nothing but a scam to push you to install another useless tool. We believe that this should be enough for you to want to delete videoZone Search from your computer right now if you have it installed. But there is, of course, more to come.
The real problem is that you can also install this PUP when installing a free software bundle. You can download a bundle when you download free software or a crack from a suspicious file-sharing page or when you click on corrupt third-party ads. The latter can take place when you are viewing a suspicious website related to porn, file sharing, online gaming, and betting, or when your PC was previously infected with malware like adware programs. One click on the wrong content and you could infect your system with adware apps, browser hijackers, Trojans, fake alerts, and PUPs. No wonder why it is so important that you use a reliable online malware scanner after you delete videoZone Search.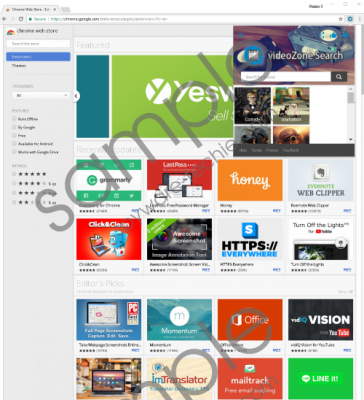 videoZone Search screenshot
Scroll down for full removal instructions
This PUP promotes a potentially unreliable online video streaming site, gomovix.com. This tool modifies your browser settings to set movie.eanswers.com as your default search provider but your homepage and new tab page also changes as the default search field will disappear. You will find your cursor blinking in the address bar instead. This means that this tool tries to push you to use its promoted search engine. However, doing so may cost you dearly. This search engine may present to you manipulated Yahoo search result, which may contain potentially risky third-party ads and links leading to malicious websites run by cyber villains. It could be risky to click on any content offered by this browser extension to be frank.
If you type "m" in the address bar and tap the Tab key on your keyboard, you activate the videoZone Search right from your address bar. In other words, this way you can directly search the gomovix.com website for a targeted movie to watch. However, you may not be able to watch it on this questionable site after all. It is more likely that you will be redirected to a search engine search page with results relating to the movie you searched for and online streaming. The same can happen if you use the icon in your toolbar, which displays a small panel with a search tool and several movie genre thumbnail links. All in all, we suggest that you remove videoZone Search from your computer as it is really not worth the risk.
If you follow our instructions below, you could eliminate this PUP in no time really. All you need to do is remove this undesirable extension using your browser's Extension Manager. It is essential that you do not stop at this stage since there could be other threats on your computer that need your immediate attention. If you do not take action now, these may expose you to dangerous third-party content and spy on you, too. This is why we suggest that you install a reputable malware removal application like SpyHunter; the sooner, the better.
Remove videoZone Search from your browser
Google Chrome
Tap Alt+F to access the menu.
Select More tools and navigate to Extensions.
Locate the extension and tap the Trash can icon on the right.
In the confirmation window, press Remove.
In non-techie terms:
When videoZone Search can be found in your Google Chrome browser, it may be a sign that your system has been infected with several malicious programs as well as potentially unwanted ones. This can happen when you install a freeware bundle that you downloaded from a suspicious torrent or another file-sharing site. But you can also download malicious bundles when you click on corrupt third-party advertisements displayed by suspicious websites or adware infections hiding on your system. Although this browser extension may not pose a direct threat, it can bring just enough system security issues on board in the form of other threats. Our researchers say that this tool can introduce you to a questionable movie streaming website as well as potentially unreliable third-party ads and other contents that you should not engage with if you do not want to end up on malicious websites and being scammed out of your money. We believe that you should remove videoZone Search right away to protect your PC. If you would like to have proper protection, you may consider installing a reliable anti-malware program as soon as possible.