Do you know what Videostripe Pop-up Ads are?
If your computer is infected with adware programs, your web surfing could be disrupted by Videostripe Pop-up Ads. These promotional advertisements are the product of an aggressive marketing technique by the authors of the Videostripe platform. This service provider claims to offer you the high-quality streaming of premium movies, but our researchers say that the real selection of movies is rather poor. Yet, we cannot say anything bad about this platform; at least, nothing that would make it a dangerous threat. However, even if you decide to go for a trial period and subscribe for the Videostripe service, we advise you to remove Videostripe Pop-up Ads from your computer along with any other potentially risky programs.
You can find the official site of this legitimate service at videostripe.com. The website looks all fine and professional. In fact, it looks very similar to other identical platforms, including silverscreen.cc and vodmatic.com. You can only try this service for 7 days for free and if you subscribe. The subscription process itself is a bit misleading and we do not consider it totally benign. First, you are only asked to enter your e-mail address and a password, and you are also led to believe that this will only take 5 second. However, once you fill out these fields, a bigger form appears suddenly that requires you to provide all your credit card details. Although it is mentioned in a notification that you will be charged 39.99 EUR monthly if you do not cancel your subscription, your eyes will most likely be drawn to the "FREE 7-day Trial Membership" row where it says "FREE 0.00 €" in red characters. This is a simple trick to try to lead your eyes so that you may overlook the other part about the price you will be charged after the 7 days are over. Of course, what could we say when the information is actually there? So it is up to you really whether you are cautious enough to read all there is.
We understand that this may not be enough for you to want to cancel your subscription and it is not even our goal to be frank. Our main concern is the annoying advertisements that could ruin your web surfing experience. These ads can come from adware applications that are residing on your system. They could be there thanks to a previous malicious attack, for example. When the number of third-party ads increase while you are browsing, you should suspect the presence of an adware app on your computer. It is quite easy to infect your PC with such a threat when you download free software from shady freeware or torrent pages. But it is also possible to end up with a bundle filled with all kinds of malware infections and potentially unwanted programs when you click on the wrong third-party ad or link. Such content can be displayed on your screen by suspicious websites (e.g., gaming, gambling, and file-sharing pages) or by adware programs already hiding on your PC. In any case, no matter how this and other malware threats found their way to your system, we recommend that you delete Videostripe Pop-up Ads by detecting the adware responsible and eliminating it along with all other possibly risky programs.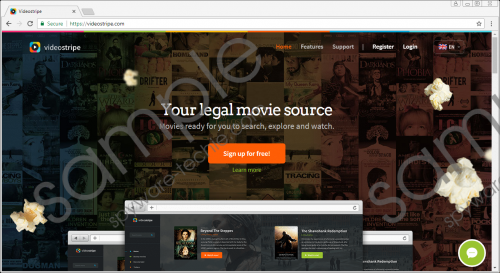 Videostripe Pop-up Ads screenshot
Scroll down for full removal instructions
Videostripe Pop-up Ads are commercial advertisements that promote an online movie streaming service through a dedicated website. Since these ads usually come from adware programs that can also promote unreliable third parties, it is possible that you could be introduced to harmful third-party content. These ads can be pop-ups, banners, but also full-page promotions. Obviously, if these ads keep popping up, your browsing could become a total nightmare. However, when you are exposed to corrupt ads, you could also open malicious pages on new tabs and get scammed by cyber crooks or simply drop other malware infections onto your system. Such an adware program may also spy on you and collect information that could be used to target you with tailored content to push you to click. We advise you to refrain from clicking on any third-party ads; even more so when your PC is infected. This is why we recommend that you remove Videostripe Pop-up Ads as soon as possible.
In order for you to be able to eliminate this threat source, you need to find the suspicious program responsible for these potentially unreliable ads. You can try to identify this and other questionable programs as well by opening the installed programs list in your Control Panel and uninstalling them. If you need help with this, please follow our instructions below. Prevention is very important when it comes to malware infections. This is why we advise you to install a powerful malware removal application, such as SpyHunter, or any other you find reputable and trustworthy enough.
Remove Videostripe Pop-up Ads from Windows
Windows XP
Click Start and navigate to Control Panel.
Click Add or Remove Programs.
Select the uninstaller and press Remove.
Windows Vista/Windows 7
Access the Start menu and go to Control Panel.
Open Uninstall a program.
Select the uninstaller and press Uninstall.
Windows 8/Windows 8.1/Windows 10
Tap Win+X and choose Programs and Features.
Select the uninstaller and press Uninstall.
In non-techie terms:
Videostripe Pop-up Ads are rather annoying and distracting advertisements promoting a supposed "premium" movie streaming service called Videostripe. These ads can make your online experience a nightmare. Our researchers say that the service and website are legitimate and not malicious at all but this aggressive campaign may not be tolerated by many. But even if the service itself is not a dangerous one, we advise you to be cautious when subscribing for the 7-day trial because if you do not cancel it in time, your credit card will be charged with 39.99 EUR. If you would like to put an end to distraction, we recommend that you remove Videostripe Pop-up Ads by uninstalling all possibly related adware programs. If you want to protect your PC more effectively, we suggest that you employ a professional anti-malware program as soon as you can.