Do you know what VideosSearches is?
VideosSearches is not an extension that helps you search for videos specifically. The name is completely misleading, and if you downloaded the PUP (potentially unwanted program) just because it "sounded" interesting or promising, you should delete it without further questioning. Of course, you can find videos using this tool to some degree, but that does not mean that it is helpful. If you continue reading, you will understand why we recommend removing VideosSearches, and the facts we present will help you decide for yourself if that is the direction you want to take as well. Should any questions come up, please do not hesitate to add them to the comments section. We will address them shortly.
As it turns out, VideosSearches is a clone of ConverterSearchTool, PDFConvertersSearch, and a ton of other extensions specifically designed for Google Chrome. It is not fully clear why this is the browsers that the developer(s) of the extensions has chosen to use, but that is what we are dealing with right now. Perhaps that is because the Chrome Web Store has been successfully used for the promotion of these PUPs. Chrome.google.com/webstore/detail/videossearches/cghhceodiapmphkmijeghidkgiopbffb is the page you can visit to find the installer of VideosSearches, and even though the PUP can be installed for free, we suggest that you do not get involved. Why? This extension is completely useless, and its main function is represented via the hijacked default search provider. And even this function is useless.
When VideosSearches hijacks the default search provider, it uses feed.videos-searches.com to redirect all of your web search to search.yahoo.com. This is why some people might assume that the PUP is a legit search-related application. Well, even if it redirects to a search engine you might be familiar with, that does not make it useful. That simply means that VideosSearches is a redirector, and redirectors are never useful. If you wanted to use Yahoo Search, you could do that without installing anything at all. Of course, there is hidden agenda. The PUP modifies the results that you are shown, and that should expose you to third-party content. If you interact with it, the creator of the PUP is likely to earn money. However, they are unlikely to work with completely transparent and trustworthy companies. Instead, you are likely to face unreliable third-party links, which is our number-one reason for recommending the removal.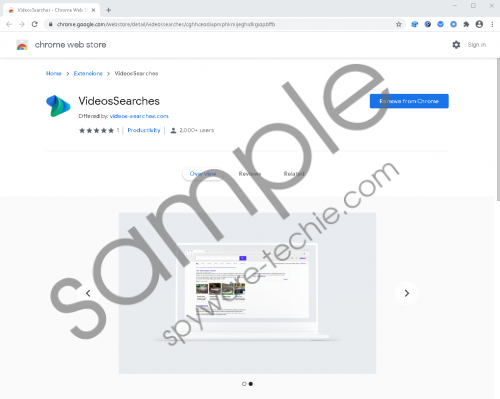 VideosSearches screenshot
Scroll down for full removal instructions
If you downloaded VideosSearches just because you found portal.videos-searches.com useful, you must know by now that the extension does not actually provide you with easy access to this page. Even if it did, we would not recommend using it because both the default search provider and the search tool embedded within the "portal" page redirect to Yahoo Search, where modified results are shown. Of course, we recommend deleting VideosSearches, and we recommend doing that with the help of anti-malware software, especially if you know that other PUPs or malicious threats exist. However, if you are interested in learning how to delete PUPs manually, you can use the guide below. It demonstrates how to erase unwanted extensions and also how to clear browsing data to get rid of any data-tracking tools.
Remove VideosSearches from Google Chrome
Open the browser and enter chrome://extensions into the address bar.
Identify the extension you want to get rid of and click the Remove button next to it.
Enter chrome://settings/clearBrowserData into the address bar.
Open the Advanced menu, pick a time range and boxes you want, and click Clear data.
In non-techie terms:
If you are looking for a tool that will help you search for videos, know that VideosSearches is not it. Even though the name suggests that it might be helpful, our team has discovered that all this PUP can do is redirect to Yahoo Search. Unfortunately, when it redirects, it also modifies the search results, which makes the search service unreliable. On top of the fact that the PUP can show unpredictable third-party ads, it also looks like it can spy on users using cookies and also share personal and non-personal information of the extension's users with unknown third-party partners. It is undeniable that deleting VideosSearches is the best move, and while it should be easy to get rid of this PUP manually (see the guide above), employing anti-malware software is our recommendation. Besides erasing threats automatically, it will help ensure further protection of your system as well.