Do you know what Videodrome Search is?
Videodrome Search is a browser extension for the Google Chrome browser, and, as the name of the application suggests, it allows you to browse the Internet for free video content. The Videodrome Search extension is configured to come in handy whenever you want after clicking on its icon which is set at the very top of the right corner of the browser. The application may seem to be appealing and useful to avid TV series and movies fans. All that the user has to do is type in the query in the search box of Videodrome Search. Unfortunately to some of those who have nothing against this application, malware researchers has recently classified the Videodrome Search extension as a potentially unwanted program (PUP). If you are among those who want to remove Videodrome Search because you are not sure how it has got on your PC, continue reading to learn more about this PUP.
Videodrome Search is a browser extension that can be downloaded from the Chrome web store. However, over years it has been noticed that users should not trust every single application available on the online store. When selecting a software program even on a reputable website, it is important to check its reviews and ratings. Sometimes hackers rig up star ratings to make their product more appealing, but it is also important to see whether some real people have commended on that software. The Videodrome Search software has no reviews at all, though the number of users is estimated at 37,209 in total.
Upon installing the Videodrome Search extension, no dramatic changes are made to the browser. In many cases with similar browser extensions, users have to deal with changed default search providers, home pages, and new tabs. No such alterations have been observed when analyzing Videodrome Search.
However, this seemingly harmless program has something hidden inside. The analysis of the program has revealed that some parts of its code correspond with the code of the browser hijacker distributing Searchalgo.com. The search engine Searchalgo.com is promoted in non-Western countries, including India, Pakistan, Egypt, etc. The fact that the unsolicited program has something in common with a seemingly harmless program should not be disregarded.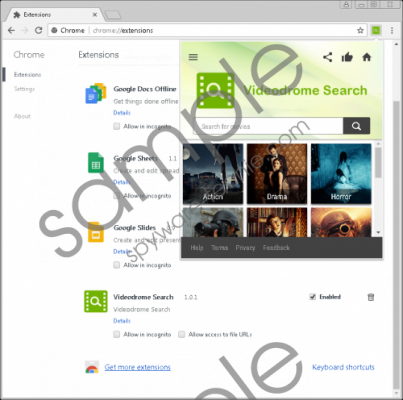 Videodrome Search screenshot
Scroll down for full removal instructions
It is worth checking the privacy policy and the terms of use of VideoDrome Search to find that some personal information could be collected. For instance, according to the privacy page associated to the extension, after synchronizing the names, phone numbers, and emails from a mobile device with the computer on which the software is installed, the content of the emails gets recorded. It is also claimed that users' information is not sold to third parties, but you should bear in mind that some exceptional cases might happen. If you want to be sure that the Videodrome Search program will not cause you any inconvenience, you should remove it from the computer once you find it present on your browser.
The Videodrome Search program is offered by bettersearchtools.com on the Google Chrome store. After installing the browser extension, you may also find suggestions to install a software named betterMovies Home, which alters the home page of the Chrome browser and also offers free access to various video content, including TV series, movies, reviews, etc.
You decide what programs will be running on your PC, but our advice is to choice carefully. The Videodrome Search browser extension is not a computer infection, and its removal does not require a lot of skills. That means that you can remove it from your browser manually. To do so, you can use our removal instructions below, but please bear in mind that very often PUPs get on the computer without the user's approval, so it is important to have an active antimalware program running on the PC.
How to remove Videodrome Search
Open the Chrome browser.
Click the three horizontal lines in the upper-right corner.
Select More tools and select Extensions.
Remove the unwanted extension.
In non-techie terms:
Videodrome Search is a Chrome browser extension aimed at computer users that prefer watching movies, TV series, and other video content on their PC screens. The browser extension falls to the category of potentially unwanted programs (PUPs) and is included on the detection list of some antimalware programs. In case you want to have the Videodrome Search removed, use our recommended security program. It is also possible to eliminate the unwanted extension manually, but you should bear in mind that your unprotected operating system may be hiding some other unsolicited software programs.