Do you know what VideoConvert Toolbar is?
VideoConvert Toolbar is a browser extension from the Mindspark family. This application comes forward as a free tool that should help you convert videos. Now, disregarding whether the program can really do that or not, some of the side features of this application are too disturbing to tolerate. Computer security experts say that you should remove VideoConvert Toolbar from your system and restore all of your system and browser settings back to the previous state. You may not find this toolbar suspicious, but it might inadvertently expose you to potential security threats, and that is definitely something we all wish to avoid.
If we take a look at getvideoconvert.com, which is the official homepage for the program, we will find quite a lot of information on VideoConvert Toolbar. The website also looks user-friendly and makes the program look reliable. It says that with this toolbar you can convert videos instantly, it supports many formats, and the application itself is safe and secure. Perhaps there is nothing suspicious with VideoConvert Toolbar at this level, but as we have mentioned above, the program comes from the Mindspark family. It means that the application is very similar to BigGameCountdownd Toolbar, FindMeFreebies Toolbar, EmailFanatic Toolbar, and so on. All these applications are categorized as adware, so it is only natural that VideoConvert Toolbar falls into the same category.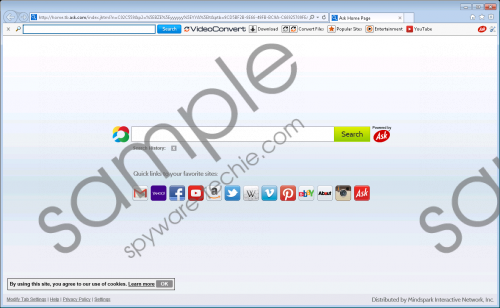 VideoConvert Toolbar screenshot
Scroll down for full removal instructions
As a result, you have a reason to remove this application. Some users even say that VideoConvert Toolbar infects their computers behind their backs. Now, it is possible for the program to enter your system uninvited, but that does not mean VideoConvert Toolbar infects your PC like a genuine virus. Even if you do not know how this toolbar arrived at your system, you still initiated the download process one way or the other. Most of the time, rather than being downloaded from the official website, VideoConvert Toolbar come bundled with freeware. What's more, if you happen to install the full setup of this application, you will find your default homepage changed to Ask.com as well.
This does not mean, however, that VideoConvert Toolbar is a browser hijacker. If you were to follow all the installation steps closely, you would see that the installation wizard asks you whether you want your default browser settings modified or not. If you skip those steps, the automatic settings take effect by switching your default homepage and search engine to Ask.com on Mozilla Firefox, Google Chrome, and Internet Explorer. That is definitely something annoying and potentially harmful, so you have yet another reason to remove this toolbar.
If you are still wondering whether you can keep VideoConvert Toolbar, consider this: This application and the associated search engine are known to promote and distribute third-party advertisements. When a program promotes third-party ads, it does not check where the outgoing links might redirect you to, and, as a result, it makes way for malevolent exploitation.
Remove VideoConvert Toolbar right now by deleting the program via Control Panel. You will also have to restore your browser settings manually because Ask.com does not disappear just like that. Finally, scan your PC with the SpyHunter free scanner to search for other potential threats. You will either need to delete additional programs or get rid of remaining files and registry entries that might be associated with VideoConvert Toolbar. You will have to make sure that your system is safe and clean.
How to Remove VideoConvert Toolbar
Windows 8 & Windows 8.1
Drag the mouse cursor to the bottom right corner of your screen.
Click Settings on the Charm bar and select Control Panel.
Open Uninstall a program and remove VideoConvert Toolbar.
Windows Vista & Windows 7
Open the Start menu button and go to Control Panel.
Click Uninstall a program and remove VideoConvert Toolbar.
Windows XP
Click the Start menu button and open Control Panel.
Access Add or remove programs and remove VideoConvert Toolbar.
Change Your Browser Settings
Internet Explorer
Press Alt+T and click Internet options.
Change your homepage address under the General tab and click OK.
Press Alt+T again and go to Manage add-ons.
Select Search providers on the left.
Choose a new default search engine, remove Ask Search and click Close.
Mozilla Firefox
Press Alt+T and go to Options.
Change your homepage address under the General tab and press OK.
Click Search on the left.
Choose a new default search engine and remove Ask.com from the list.
Press Alt+T once more and go to Add-ons.
Disable and remove VideoConvert from Extensions.
Restart your browser.
Google Chrome
Press Alt+F and go to More tools.
Open Extensions and remove VideoConvert.
Click Settings on the left.
Mark Open a specific page or set of pages under On Startup.
Click Set pages and change your homepage. Click OK.
Select Manage search engines under Search.
Set a new default search engine, delete Ask Search and press Done.
In non-techie terms:
VideoConvert Toolbar is an adware program that functions like a browser extension. It might have some useful functions, but it usually arrives at your computer uninvited and then exposes you to potentially corrupted third-party content. It is important that you remove VideoConvert Toolbar immediately and then invest in a licensed antispyware application. For an alternative software removal method, you can always refer to the secondary set of instructions below.