Do you know what Video Search Tools Plus is?
Video Search Tools Plus is sort of a unique program because it also doubles as a search engine. This program is a browser extension for Chrome that you should consider removing, since it is set to hijack your browser's homepage and new tab page. We fear that the website which replaces the home and new tab pages may display modified search results that can be set to sponsor certain links. Video Search Tools Plus is not exactly a malicious program. The only problem we have with it is that it does not ask users whether they want to change to home and new tab pages to the promoted search engine. However, there is more to this extension and its promoted website that we want to share with you, so if you have this program, we invite you to learn more about it.
This browser extension has been developed by Keen Internet Technologies Ltd. This company's website address is Keen.media. The website claims that it offers end-users high-value offers and products which implies that it is an adware developer. The website's terms and conditions say that any claims relating to the company are subject to Israeli law, so it is most likely based in Israel. Video Search Tools Plus can be downloaded from Videosearchtoolsplus.com and From Google's Chrome Web Store. Now, it is not the first time that potentially unwanted programs have ended up on this website, so do not treat this extension as completely safe.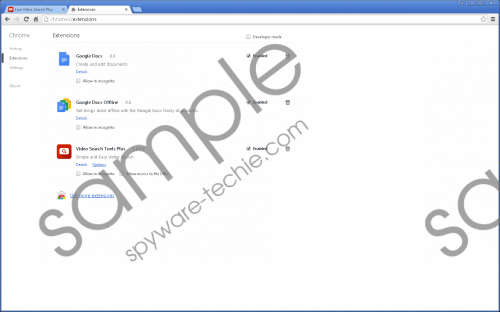 Video Search Tools Plus screenshot
Scroll down for full removal instructions
The extension's accompanying search engine Plusnetwork.com is considered unreliable. This search engine actually promotes a potentially unwanted program called Reimage which is a supposed PC repair tool. Plusnetwork.com is a product of Zone Media LTD based in the UK. So there is a very complicated web of unreliable programs that other promote programs. Going deeper is unnecessary, because it is clear that all of the aforementioned companies are somewhat shady.
Video Search Tools Plus's website states that this program's purpose is to offer you a convenient way of getting the best search results. However, our researchers could not help but notice that this program and the Plusnetwork.com search engine are incompatible. To be more specific, the program shows additional search results only on Google.com — not on Plusnetwork.com. It is rather useless and that is one of the reasons why you should remove it. Also, the search engine features third-party advertisements that promote unreliable software and various shady services. Due to Video Search Tools Plus unreliable and useless nature, we recommend that you remove it from your browser.
Video Search Tools Plus has been developed by an unreliable software developer that specializes in advertising. This program itself does not show any ads, but in a way it promotes Plusnetwork.com. Now, this search engine promotes other unreliable programs and other questionable content. So you do not get anything useful from Video Search Tools Plus what so ever. Therefore, you can remove it if you which. You can make use of the instructions provided below if you are not too familiar with navigating through Google Chrome.
How to remove Video Search Tools Plus from Google Chrome
Open the browser and press Alt+F.
Click More tools and select Extensions.
Find the Video Search Tools Plus extension.
Click Remove.
In non-techie terms:
Video Search Tools Plus is a potentially unwanted program that you might want to remove, because it does not offer anything useful. This program features an unreliable search engine that takes over Chrome's search provider, homepage, and new tab page. The search engine (called Plusnetwork.com) shows unreliable advertisements that sometimes promote unreliable software. Therefore, it would be wise to remove this program just to be on the safe side of things.