Do you know what Video-Browse is?
The application's description says that Video-Browse brings "Optimized Search Results powered by Yahoo," but what does it mean? Will the extension let you search the Internet with Yahoo? Our researchers say that the application may provide users with a search tool of its own that could redirect them to a modified Yahoo search engine. What is important to know is that results shown by a modified search engine could be altered, for example, to inject them with third-party advertisements. To learn more about how this extension might work, we encourage you to read our full report. If you decide you do not want it on your system, we recommend checking the removal guide available below. It shows how to delete Video-Browse from Google Chrome.
Video-Browse is available on its homepage called video-browse.com. Also, for now, Google Chrome's users can find it on the Chrome Web Store page too. Since the application seems to be compatible only with the mentioned browser, it is unlikely that it could be available on platforms that offer Mozilla Firefox or Internet Explorer extensions. Moreover, you should know that the plugin was classified as a potentially unwanted program, which means it could be spread like other similar applications too, for example, through bundled software installers or redirects. Therefore, there is a chance that you could receive the plugin while installing some other tool. Usually, we recommend being careful during installation and to always select advanced settings as sometimes it is the only way to view and deselect bundled software.
During the extension's installation, users might be asked to permit it to change their browser's default search engine. According to our computer security specialists, Video-Browse might replace it with feed.video-browse.com. This search website ought to redirect to Yahoo search engine, but users should know that it could be modified, which means, the results might be injected with third-party content. Also, users who install Video-Browse might be asked to allow it to read their browsing history. The data available through browsing history could include your visited websites, clicked ads, search keywords, and information alike. Such data is anonymous, but some users may consider it private or may not want it to be used for marketing purposes. If you are among such users, you might want to rethink if you want this extension on your browser.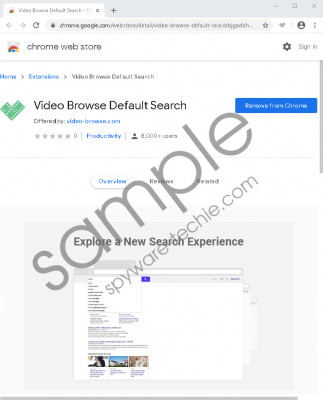 Video-Browse screenshot
Scroll down for full removal instructions
For users who decide to remove Video-Browse we can offer a couple of solutions. If they want to delete the potentially unwanted program manually, they could erase it from their browser's extensions menu. The removal guide available below this paragraph show how to perform this task step by step. The second option for those who want to eliminate Video-Browse is to install a reliable antimalware tool and to let it deal with the potentially unwanted program.
Erase Video-Browse
Open Google Chrome.
Insert chrome://extensions into the address bar and press Enter.
Search for Video-Browse and click Remove.
If needed, confirm you wish to Remove it.
Close your browser.
In non-techie terms:
Video-Browse is thought to be a potentially unwanted program, which means it could have undesirable functionality. Our researchers say that this unwanted quality of the plugin could be its need to change Google Chrome's default search engine. The extension might replace it with a search tool of its own that could show modified Yahoo search results. Consequently, the results could include third-party content that might be injected by the potentially unwanted program. If there is not knowing where such content comes from, there is a possibility that it could be unreliable. Therefore, we advise users not to let their guard down if they surf the Internet while using the application's search tool. On the other hand, if you decide that you want to use the original Yahoo or any other reputable search engine, you could erase the plugin while following the removal guide available above or with a reliable antimalware tool.